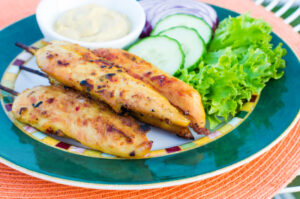 When it comes to healthy, tummy filling protein, chicken is at the top of most people's list. Tasty, low in fat and easy to prepare, there's plenty of good reasons to to enjoy poultry.
Chicken breast in particular is also packed full of essential vitamins and minerals. These include niacin (fantastic for brain health), vitamin B6 (for a healthy heart), and selenium to keep your thyroid functioning optimally.
Thyroid function in particular is increasingly important when it comes to healthy weight loss, so eating chicken on a regular basis could end up being a key ingredient to losing weight.
Having a couple of versatile ways of preparing chicken in your repertoire is a good way to keep things interesting around the dinner table, and stave off the boredom that sometimes comes with eating the same thing over and over again.
People often associate weight loss with eating bland food on a regular basis, with little to no variety. We all know this couldn't be further from the truth. All you need is to think a little more creatively!
Mixing things up keeps things interesting and can help keep you committed to your diet and healthy weight loss plan as you're more likely to want to stick to something you enjoy. This recipe uses chicken breast but in the form of tender chunks threaded onto skewers. This is an especially kid friendly way of preparing chicken and will also go down well at a BBQ.
These skewers are also served with a yummy dipping sauce of sorts which is made from butternut pumpkin and negates the need for sugary/salty sauces like tomato, BBQ or sweet chilli.
Enjoy!

Ingredients
6 chicken breasts, skin removed, cut into bite-sized pieces
3 tbsp olive oil
2 tbsp lemon juice
1/2 tsp turmeric
1/2 tsp ground cumin
1/2 tsp ground coriander
1/2 tsp paprika
1/4 tsp ground cinnamon
3 garlic cloves, 1 peeled and intact and 2 crushed
1/2 tsp grated ginger
500g x butternut pumpkin, peeled, deseeded and cut into cubes
1 tbsp tahini
Directions
Preheat the oven to 200C.
In a large mixing bowl, combine 2 tbsp olive oil, 1 tbsp lemon juice, turmeric, cumin, coriander, paprika, cinnamon, 2 crushed garlic cloves and the ginger. Mix well then add the chicken.
Cover with cling film and leave to marinate for 30 minutes (or as long as you have).
While the chicken is marinating, place a piece of foil on a baking tray then place the pumpkin cubes on a baking tray. Drizzle over 1 tbsp olive oil  Add the whole clove of garlic and wrap the foil up like a parcel to seal everything in.
Bake for 25-30min or until pumpkin is cooked through.
When cooked through, place cooked pumpkin into the bowl of a food processor. Squeeze out the roasted garlic from the clove and discard the skin.
Add the tahini and remaining lemon juice and process until smooth.
Thread the chicken pieces onto pre-soaked wooden skewers.
Heat a large frying pan over medium heat and cook the kebabs, turning until golden on all sides.
Serve with the dipping sauce.
Makes 4 servings – 257 cal per serve