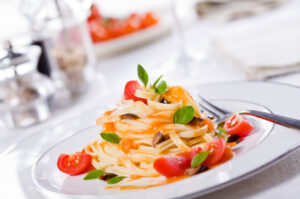 For many families, pasta is a weekly menu staple. Quick to prepare, cost effective and tasty, it ticks all the boxes for an easy midweek meal.
Many women are under the impression that pasta needs to be off the menu when trying to lose weight and eat healthily. While tucking into a bowl of rigatoni or linguine every night isn't recommended, enjoying a weekly serve of pasta is perfectly fine.
It's the type of pasta that you choose, and what you top it with that makes the difference between something unhealthy and calorific and something healthy, tasty and low in calories and fat.
Creamy sauces, recipes that require more than the usual amount of oil and ingredients like bacon or other processed meats are best kept for a 'sometimes treat' when you're aiming for weight loss.
Recipes like this however, that use fresh, nutritious ingredients, are a great inclusion to your healthy eating plan.
This recipe combines linguine (wholemeal if you can find it), with fresh cherry tomatoes, low fat ricotta, crushed garlic and basil leaves. The addition of 1/2 tsp of chilli flakes adds a touch of heat and flavour, without extra calories.
The beauty of this dish is that it is so easy to throw together (dinner can be on the table in less than 20 minutes!), and uses many ingredients you probably already have lurking around in your fridge.
Enjoy!
Ingredients
250g linguine, wholemeal if you can find it
380g cherry tomatoes, halved
100g reduced fat ricotta cheese
40ml extra virgin olive oil
2 garlic cloves, crushed
10 fresh basil leaves
1/2 tsp chilli flakes
1/2 tsp each salt and pepper
1/4 cup pitted olives (optional)
Directions
Fill a large saucepan with the recommended amount of water for your chosen linguine
Add 1/2 tsp salt, cover, and bring water to a rolling boil
While water is bubbling, add the linguine and cook, according to packet instructions
Pour the oil into a large frying pan and heat oven medium/high heat
Add the garlic and chilli flakes
Cook for a couple of minutes before adding the tomatoes and black pepper
Allow the mixture to cook for 3-4 minutes. You want the tomatoes to cook but remain quite firm
Once the pasta is cooked, drain and place in a large bowl.
Pour the tomato mixture into the bowl and toss to combine
Crumble in the ricotta and add the basil leaves and olives (if using)
Serve while hot
Makes 2 servings – Cal per serve – 400
GET YOUR 10% DISCOUNT
If you are ready to lose weight then the Lose Baby Weight plans offer a healthy and safe exercise and diet routine and you can get a 10% discount by using code LOYALTY at the checkout
PLUS our BEST SELLING 28 Day Diet & Exercise Plan has now launched as an 84pg Printed Book and you can get your copy here 
Click HERE to see our shop