Love Chocolate? Well here are some of Tasheena's favourite Lose Baby Weight Chocolate Recipes!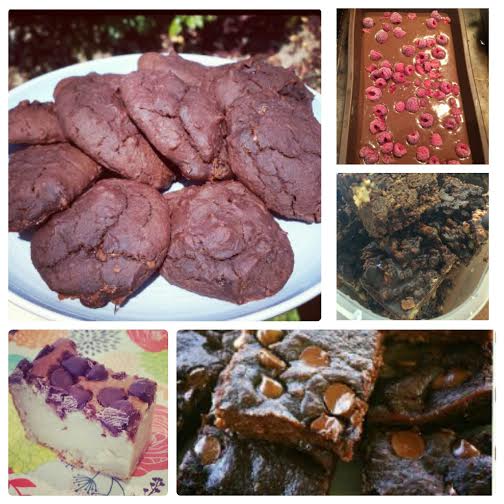 Hi Chocoholics!
Here are my 5 top Lose Baby Weight Chocolate recipes.
I have been following the Lose Baby Weight plans for 15 months now and have lost 40.6kgs and have also been doing the 28 Day Challenges which I LOVE! As I can still have treats and desserts and it really doesn't feel like a challenge at all, just yummy recipes already planned for me!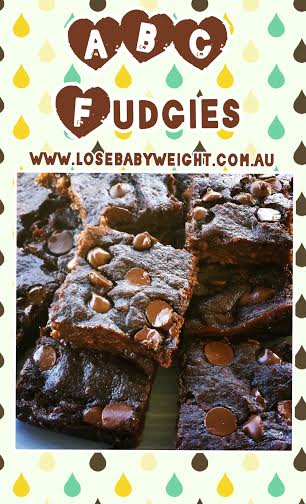 ABC Fudgies
Ingredients
2 ripe bananas
1 can chickpeas
1/4 cup almonds or walnuts
1/2 cup skim milk or low fat milk/ almond milk
2 tablespoons cocoa powder or cacao powder
2 tablespoons honey
2 tablespoons coconut oil
3 tablespoons coconut sugar
2 tablespoons dark choc chips
1 teaspoon baking powder
pinch salt
Method
Pre-heat oven to 200 degrees
Line a 20cm x 20cm baking tray or casserole dish with baking paper
Place all ingredients except the dark choc chips into a blender and blend until well combined
Pour mixture into baking dish and sprinkle dark choc chips on top
Place tray in oven for 20mins, mixture will come out soft
Let cool on bench and place in fridge for 1-2 hours until set
Cut into 16 slices
98 calories a slice
Safe to freeze for later.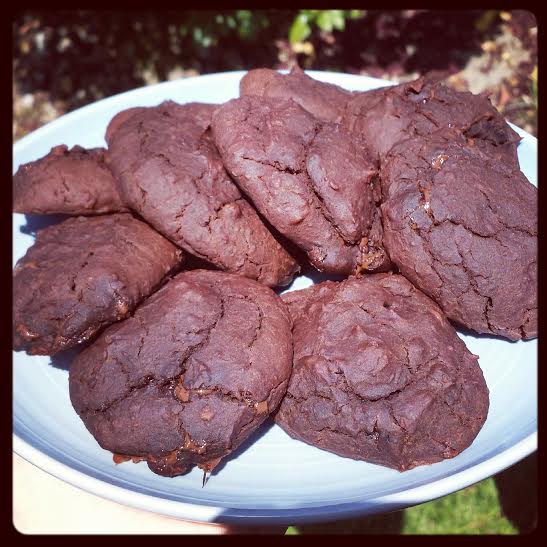 Double Chocolate Cannellini Cookies
Ingredients
1 x 400g can of cannellini beans
2 large tablespoons of wholemeal flour
2 tablespoons of organic honey
2 tablespoons of Cocoa powder
1 tablespoon of Mayvers All Natural Crunchy Peanut Butter (any brand will do)
1 tablespoon of coconut sugar
1 teaspoon of baking powder
1/4 cup dark chocolate chips
2 egg whites
pinch of salt
Method
Pre-heat oven to 200 degrees.
Line baking tray with baking paper.
Place all ingredients into a blender and blend until mostly smooth. Can add choc chips last and blend again if you prefer to have chunky choc chips.
If mixture is runny add more flour.
Using a large tablespoon, spoon 12 dollops of the mixture onto the tray and mold with wet hands into the shape you desire.
Bake for 15-20mins and let cool.
Can be kept in an airtight container in the fridge for a week if they last that long! 105 calories each.
Love Tasheena's Top 5 Chocolate Recipes? You can get more Dessert Recipes with your FREE 28 Day Weight Loss Challenge Dessert Recipes HERE.


Linda's Raspberry Ripple Cake
Ingredients
400mls of Unsweetened Light Coconut Milk (needs to be refrigerated for 24 hours prior to making)
1tbs Natvia
2 tbs Golden Syrup
1/2 cup Cocoa (I used home brand)- you can add less for a slightly less bitter flavour.
1 cup of Corn Flour
2 medium Ripe Bananas-mashed
1/2 cup of Frozen Raspberries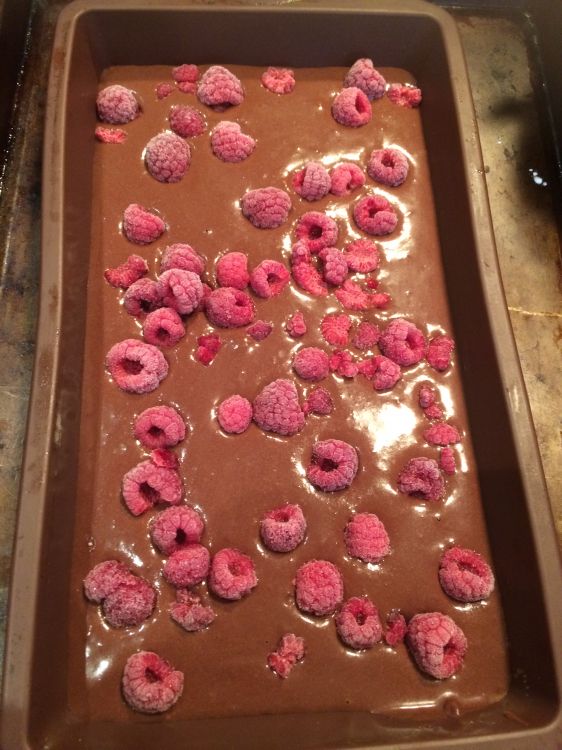 Method
Preheat oven 180 and line a slice tray
Using an electric mixer beat the coconut milk for several minutes until smooth creamy and slight thickened
Add the Natvia while continuing to use the beater on high and slowly add the golden syrup until fully combined
While still keeping the mixer high add the cocoa and corn flour slowly
Next add the mashed bananas until fully combined
Pour half the mixture into the prepared slice tray and sprinkle the raspberries evenly in the middle, then pour remaining mixture over the top
Place in oven for 30-35 mins
When cooked it should feel set and a little springy
Allow to cool slightly and cut.
This is best served hot. But just as great cold.
Serves 18
116 calories per serve


"Healthy" Rocky Road
Ingredients
Base
4 weetbix or 58grms
1/4 cup desiccated coconut or 25grms
100grms 70% lindt
 Topping
50grms putted dates
40grms walnuts
5 dried Apple rings or 35grms
50grms 70% dark chocolate
Method
Line a loaf tin and set aside
To make the base crush the weetbix into a bowl and add the coconut
Melt chocolate in the microwave 30 seconds at a time mixing each time until completly melted
Add the melted chocolate into dry weetbix mixture making sure it is all coated well- the mixture will appear crumbly but will set fine
Compress into the lined loaf tin and set aside
To make topping add Apple, walnuts and dates into a food processor and pulse for a min (don't worry if the Apple does not chop up it need to be processed to give it a "fluffy" texture)
Melt the remaining chocolate in the same way as above
Using kitchen scissors roughly chop the apple rings over the melted chocolate and add the date and walnut mix and combine well
Press the chocolate mixture into the base
Refrigerate or freeze for 30 mins or until set
Remove from fridge/freezer and slice using a warm knife
Store in an airtight container in the fridge/freezer
Serves 18
95 Calories per service
Love Tasheena's Top 5 Chocolate Recipes? You can get more Dessert Recipes with your FREE 28 Day Weight Loss Challenge Dessert Recipes HERE.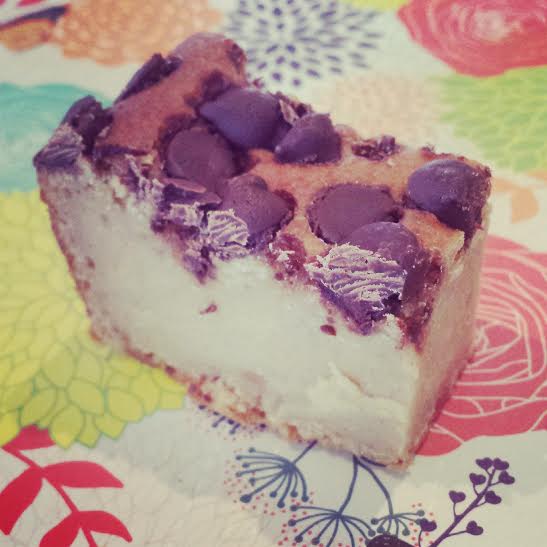 Gooey Choc Chip Banana Cake
Ingredients
3 ripe bananas
1 400 gram can of chickpeas
2 tablespoons of coconut sugar (can use any natural sweetener instead)
2 tablespoons of honey
1 cup of wholemeal flour
2 teaspoons of baking powder
pinch of salt
1/2 cup of almond or coconut milk (can use any low fat milk instead)
1/4 cup of dark choc chip buttons for the topping
Method
Pre-heat oven to 200 degrees and line a baking dish or tray with baking paper or grease with cooking spray
Throw all ingredients into a blender besides the dark choc chips
Blend until well combined
Pour mixture into dish/tray and tap on bench to allow mixture to spread evenly, then sprinkle dark choc chips on top
Bake for 30-35 minutes or until top is golden brown and a skewer comes out mostly clean
Allow to cool in the tray and once cooled, place in the fridge to completely set, then cut into 16 slices, 118 calories each.
You can join Tasheena along with thousands of other mums on our 28 Day Weight Loss Challenges here.