I still can't believe that my little baby is coming up to 12 months old – this year has flown by! But as he gets older (and more active – he finally started crawling at 10 months and is now EVERYWHERE!) I am always after new ideas and things to do with him – especially over summer when we have more time off.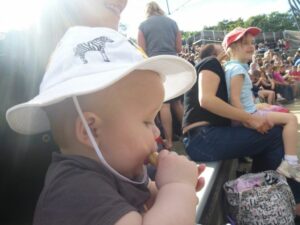 I live in Sydney so am lucky to have access to lots of things to do and see and I think I have managed to go to lots of the big places over the past few months but my six favourite ones to do if you come to Sydney are:
The Museum on William Street – this is excellent as there is lots for adults to see and do but the BEST thing is that there is a "kidspace" area in there which is just brilliant for babies and children.  They have all different kinds of dens and areas for kids to explore and a special baby section too. My bub just loved it and I have gone back lots as it is fun an educational.
The Aquarium in Darling Harbour – excellent for the whole family although it can be a bit pricey at $35 per adult – but there are lots of discounts and concessions on so check their website for info. My bub just LOVED watching the sharks and other fish swimming around and he was totally mesmorised by it all.
The Zoo – this is a huge family favourite! It is so family friendly and my bub has so much fun whenever we go here and the older he gets the more he enjoys it. It really is a great day out and the views over Sydney are amazing!
The Manly Ferry – or any of the Sydney ferries is great to go on with kids. There is so much for their eyes to take in and of course if your baby is anything like mine they will be as happy as Larry with the movement on the sea!
Waggamama – this is a great restaurant and is really child friendly. They have great high chairs and the babies really feel part of the action. Plus the food is delicious and kids eat free! This is a fun activity in itself.
Luna Park – what child (and adult) doesn't like the fun fair! This is a great day out and well worth the visit.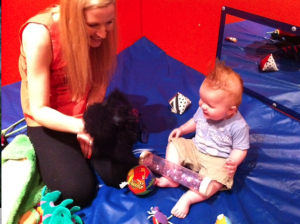 There is just so much to see an do and of course there are family friendly beaches and parks everywhere which kids always enjoy too and the best thing about them is that they are free.
The only downside about going out is that I find most of the food options are unhealthy and the vast majority is fatty and fried which is just terrible and I could rant on about it until the cows come home! So my advice is to always take healthy snacks and foods with you so you and your children can eat healthy foods when you are out and don't end up having to buy pies, hot dogs, burgers and chips!