For a quick and easy marinade, you really can't go past this combination.
Sweet, sticky and spicy are all great flavours to combine with some roasted chicken for a healthy eating meal.
Try serving this with some brown rice, stir fried Asian greens such as bok choy, or some corn on the cob for a feast for the senses.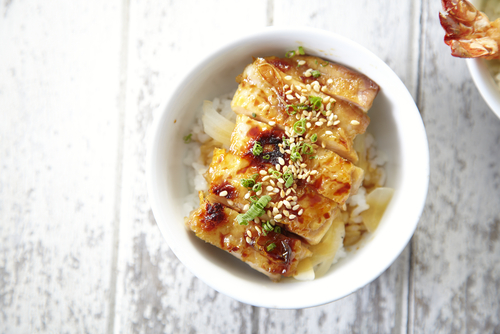 Making your own healthy eating marinade is simple once you have the basics in the pantry.
Simply blitz it all in a food processor and you're good to go.
Naturally you can leave out the chilli if you are making this for kids – or add even more if you like it hot!
Ingredients:
1kg of chicken thighs, breasts or drumsticks
2 medium brown onions, peeled and diced
2 small red chillis
1 thumb sized piece of fresh ginger, peeled
4 cloves garlic, peeled
1 stick of lemongrass, white part only
½ cup fresh coriander
Juice of 2 limes
3 tbsp fish sauce
1 tbsp soy sauce
2 tbsp honey
2 tbsp sesame seeds
4 green shallots, finely chopped
Method:
Preheat the oven to 200C, line a tray with baking paper, and place the chicken pieces on top.
Place the chilli, ginger, garlic, lemongrass, coriander, lime juice, fish sauce, soy sauce and honey into a small food processor and blend until smooth.
Pour over the chicken and rub in to ensure an even coating.
Throw the onions in with the chicken.
Bake for 45 minutes, turning half way through.
Sprinkle with the sesame seeds and shallots before serving.
Serves: 6. Calories per serve: 288 (based on using 1kg of chicken thighs).

GET YOUR 10% DISCOUNT
If you are ready to lose weight then the Lose Baby Weight plans offer a healthy and safe exercise and diet routine and you can get a 10% discount by using code LOYALTY at the checkout
PLUS our BEST SELLING 28 Day Diet & Exercise Plan is available as a 200pg Printed Book and you can get your copy here 
Plus our NEW CALORIE BIBLE is now available – get your copy today! Only $19.95 and a must have in your handbag!
Click HERE to see our shop