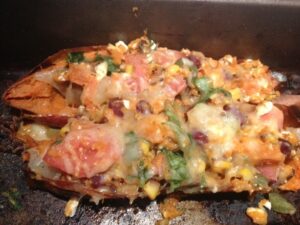 If you love the flavours of Mexican food and are trying to lose weight, here is a healthy option that you might just love.
Instead of throwing the filling into a burrito or on top of some corn chips, this dish sees you stuffing some healthy roasted sweet potatoes with the goodness of fresh herbs, vegetables and warming spices.
Tailor it to your own tastes in terms of the amount of chilli and spice that you add.
Just remember that the ricotta and sweet potato will absorb some of the heat, so why not be adventurous and get your spice on!
You might have some leftover filling if you're lucky, and this is delicious the next day served with some baby spinach as a spicy salad.
Ingredients:
2 medium sized sweet potatoes
1 corn on the cob (or use half a tin of corn)
1 tsp Mexican or chilli spice (optional)
Salt and pepper, to taste
1 small brown onion, peeled and finely chopped
1 tsp olive oil
6 jalapenos (optional), chopped finely
2 heaped tbsp low fat ricotta cheese
½ a tomato, diced
½ cup fresh coriander
400g tin of kidney beans, drained
½ cup low fat cheddar cheese, grated
Method:
Place the whole sweet potatoes in the oven at 180C for around an hour until they are fork-tender.
Set aside to cool down a little.
Meanwhile, cut the corn from the cob and place in a dry pan over med/high heat.
Sprinkle over some salt, pepper and Mexican spices and allow to roast without stirring for 4 minutes.
Give the pan a shake and roast for another 4 minutes. Place into a large mixing bowl.
Heat the oil in the pan and cook the onions on medium heat for 5 minutes until tender. Add to the bowl.
Slice the sweet potatoes in half and carefully scoop out most of the flesh, leaving a ½ cm coating of potato in each skin. Place potato flesh into the mixing bowl.
Add the chopped jalapenos, ricotta, kidney beans, tomato, and coriander to the bowl. Mix well with a spoon.
Heat your grill to medium/high.
Scoop spoonfuls of mixture into the sweet potato skins.
Top with the grated cheese and grill until golden brown on top.
Makes: 4 stuffed sweet potato halves.
Serves: 2 as a main, 4 as a side dish.
Calories per sweet potato half: 195.

GET YOUR 10% DISCOUNT
If you are ready to lose weight then the Lose Baby Weight plans offer a healthy and safe exercise and diet routine and you can get a 10% discount by using code LOYALTY at the checkout
PLUS our BEST SELLING 28 Day Diet & Exercise Plan is available as a 200pg Printed Book and you can get your copy here 
Plus our NEW CALORIE BIBLE is now available – get your copy today! Only $19.95 and a must have in your handbag!
Click HERE to see our shop