Oh happy days – Summer is just around the corner which not only means discarding the winter jacket and enjoying beautifully mild days, but it also means we can freshen up our weight loss recipes with fresh spring produce. Winter vegetables are a great source of nutrition and perfect for winter recipes but spring allows us to introduce some light spring vegetables, beautiful salads and fresh fruit weight loss recipes into our healthy eating plan.
Check out our delicious spring inspired weight loss recipes that will have you rejoicing in delicious fresh flavours:
Spring Weight Loss Recipes # 1 – Spring in a Pot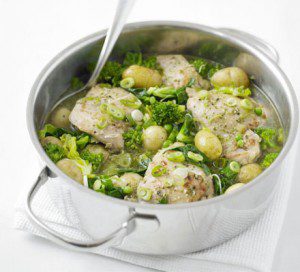 This casserole recipe is perfect for spring – it is full of delicious spring vegetables.
Ingredients
1 tbsp olive oil
1 onion , chopped
500g boneless, skinless chicken thighs
300g small potatoes
425ml low-salt vegetable stock
350g broccoli , cut into small florets
350g spring greens , shredded
140g petits pois (peas)
bunch spring onion , sliced
2 tbsp pesto
Method
Heat the oil in a large, heavy pan. Add the onion, gently fry for 5 mins until softened, add the chicken, then fry until lightly coloured. Add the potatoes, stock and plenty of freshly ground black pepper, then bring to the boil. Cover, then simmer for 30 mins until the potatoes are tender and the chicken is cooked.
Add the broccoli, spring greens, peas and spring onions, stir well, then return to the boil. Cover, then cook for 5 mins more, stir in the pesto and heat through.
Spring Weight Loss Recipes # 2 – Quick Spring Couscous Salad
This delicious no fuss salad is perfect for a quick lunch!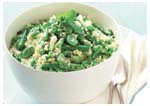 Ingredients
100g couscous
200ml hot low salt vegetable stock (from a cube is fine)
2 spring onions
1 red capsicum
½ cucumber
50g feta cheese , cubed
2 tbsp pesto
2 tbsp toasted pine nuts
Method
Tip couscous into a large bowl, pour over stock. Cover, then leave for 10 mins, until fluffy and all the stock has been absorbed. Meanwhile, slice the onions and capsicum and dice the cucumber. Add these to the couscous, fork through pesto, crumble in feta, then sprinkle over pine nuts to serve.
Spring Weight Loss Recipes # 3 – Simple Spring Fruit Salad
What ingredient epitomises spring? Strawberries of course! This fruit salad is divine for the whole family and the perfect finish to lunch or dinner.
Ingredients

5 large pink grapefruit
1 cup white sugar
1 vanilla bean
1.3kg seedless watermelon
3 Red Delicious apples
400g red grapes, removed from stalks
2 x 250g punnets strawberries, sliced
Method
Juice 1 grapefruit. Combine sugar and 1/2 cup grapefruit juice in a small saucepan. Cut vanilla bean through centre, leaving bean connected at base. Scrape soft black seeds out of centre. Add seeds and bean to sugar mixture. Stir over low heat for 5 minutes or until sugar has dissolved and syrup just comes to the boil. Reduce heat to low. Simmer, without stirring, for 5 minutes. Remove from heat. Allow to cool completely.
Using a knife, remove skin and pith from remaining 4 grapefruit. Cut into wedges. Remove skin from watermelon. Cut flesh into 2cm cubes. Cut apples into quarters. Remove cores and discard. Dice apple.
Arrange watermelon in a large serving bowl. Top with grapes, apples, grapefruit and strawberries. Drizzle with syrup. Serve.
We hope you enjoy our delicious spring-inspired weight loss recipes. If you have any of your own, share with us today and don't forget to check out our other range of weight loss recipes.
If you are ready to lose weight then the Lose Baby Weight plans offer a healthy and safe exercise and diet routine.

And don't forget to check out our current promotions and discounts page to see what specials we have on this week on our Healthy Mummy product range