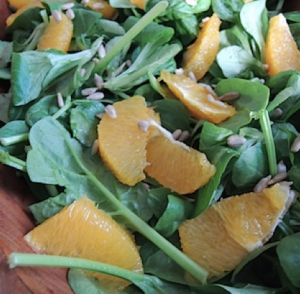 We love snacks that keep us going for hours and that can help with post pregnancy weight loss– and that's exactly what this nifty little snack idea of spinach, orange and sunflower seeds will do for you.
Zingy, fresh, soft and crunchy, all at the same time, this yummy snack is perfect for keeping you going mid-morning and is perfect for your Lose Baby Weight healthy eating plan.
Health benefits of spinach
It's well known that spinach is probably one of the healthiest veggies you can eat. Rich in iron and folic acid, like its dark green veggie cousins kale and cabbage, spinach is also packed with flavonoids, which are known to slow down cell growth and cell division in human cancer cells – so regularly enjoying spinach could actually reduce your risk of cancer.
Spinach also contains two anti-inflammatory nutrients, neoxanthin and violaxanthin, which are found in "unusual" quantities in the green leaves, both helping to regulate and prevent inflammation. It's also rich in antioxidants, known to fight disease, and it contains certain peptides which are known to inhibit an enzyme within the body that can cause high blood pressure – so eating it could effectively control your blood pressure, reducing your risk of associated diseases.
Spinach is a particularly nutritious food if you're trying to lose weight, as it is super low in calories and fat. 100g of spinach contains just 24 calories and 0.8g of fat – as well as a significant amount of your RDA of fibre. Studies have shown that a diet rich in dietary fibre could help to boost your weight loss and improve bowel health. And if that wasn't enough, if you enjoy your spinach salad with a few orange segments, you could also boost the amount of iron you take in from it.
Health benefits of orange
Studies have shown that if you eat spinach, rich in iron, alongside oranges, which are rich in vitamin C, you can boost the amount of iron available to your body from the spinach. Aside from boosting iron absorption, vitamin C is also a powerful antioxidant nutrient, and regularly consuming it could help to improve the body's natural disease defences, while also helping to rid the body of potentially damaging free radicals.
Oranges are also rich in B-vitamins and numerous vitamins, including potassium, calcium and vitamin A, as well as a number of powerful antioxidants. And they're low in calories too, while being free from saturated fat and cholesterol.
Health benefits of sunflower seeds
Topping this snack off nicely are some crunchy, savoury sunflower seeds. They're rich in two very essential nutrients for health and wellbeing, vitamin E and selenium. Vitamin E is known to improve heart health, reducing your risk of cardiovascular disease as well as neutralising free radicals throughout your body.
The selenium in sunflower seeds is also known to reduce your risk of cancer, and it's also associated with inducing DNA repair in damaged cells. Sunflower seeds are also rich in magnesium, which is known to improve calcium absorption (which spinach and orange both contain), helping to prevent your body absorbing it too quickly.
Enjoying your snack
A filling, healthy snack would be around 100g spinach leaves, 1 medium orange and 25g sunflower seeds. 100g spinach leaves contain 24 calories, 1 orange contains 64 calories, and 25g sunflower seeds contain 150 calories, bringing this snack in at just 238 calories.
To pep your snack up a bit, try drizzling it with a quick fruity salad dressing – or, if you want to keep your calorie count even lower by omitting the oil, try drizzling with a fruity vinegar. Sunflower seeds also get even more flavourful when toasted, so pop them into a dry frying pan over a medium heat and toast for 30-60 seconds, or until golden.
To pad this snack out into a full meal, try serving with a grilled chicken breast and some sweet potato wedges.
If you are ready to lose weight then the Lose Baby Weight plans offer a healthy and safe exercise and diet routine that are safe in breastfeeding
And don't forget to check out our current promotions and discounts page to see what specials we have on this week on our Healthy Mummy product range