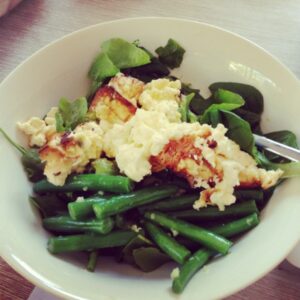 Salad. It's a staple part of any healthy eating plan, especially when you're trying to lose baby weight and keep an eye on your waist line. Low in calories, high in protein and packed with vegetables, it's no wonder a big bowl of leafy greens is a menu favourite.
Thing is, when you eat the same thing for an extended period of time, it can get a bit.. boring. Our bodies really enjoy eating a variety of different foods with different tastes and textures. It's the reason the majority of recipes we cook combine elements of sweet, salty, spicy and plain flavours.
Mixing things up a little bit is not only a great way to experiment with new recipes, it also means you're more likely to stick to your healthy eating and weight loss plan. If you're feeling a bit over your usual lunch, you're far more likely to hit the vending machine or raid the fridge for something less than nutritious. Keeping things interesting will keep your tummy AND your scales happy.
This yummy dish puts a twist on the traditional salad by adding crunchy green beans and salty, delicious baked feta. While you may be familiar with frying cheese like haloumi, feta is also delicious when baked in the oven. And it has less calories than its fried counterpart!
We've used a base of baby spinach for this salad but you could swap that around with whatever you've got in the fridge. Mixed greens or mesclun would work really well. You can also add any other raw veggies or salad ingredients you may have in the fridge. Think of this as the perfect 'leftovers' recipe to ensure that you're getting plenty of veggies AND not throwing out any food!
Ingredients
Salad
80g reduced fat feta cheese (about half a standard block)

2 cups green beans, topped and tailed
1 cup baby spinach leaves
1 tbsp olive oil
1 tbsp lemon juice
1/2 ripe avocado, cut into chunks
Pinch sea salt
Dressing
2 tbsp olive oil

1 tbsp white wine vinegar
1 tsp dijon mustard
Salt and pepper to taste
Directions
Preheat your oven to 160C

Place feta in the middle of a large square of foil (enough to wrap and cover the chunk completely)
Drizzle the feta with olive oil and lemon juice and sprinkle over some sea salt
Place in the oven, on the bottom tray to bake for about 35 minutes
Check the cheese regularly, it will turn golden on top and become quite bubbly when cooked
Five minutes before removing cheese from the oven, fill a saucepan with plenty of cold water
Bring to the boil and add the green beans
Boil for 2-3 minutes then refresh under cold water
Tip drained beans into a large serving bowl (or two smaller bowls)
Add baby spinach and avocado chunks
Remove feta from the oven and add to the bowl(s)
Place dressing ingredients in a small jar/mug and either shake or whisk to combine
Serve immediately.
Makes 2 serves –  Cal per serve – 408
GET YOUR 10% DISCOUNT
If you are ready to lose weight then the Lose Baby Weight plans offer a healthy and safe exercise and diet routine and you can get a 10% discount by using code LOYALTY at the checkout
PLUS our BEST SELLING 28 Day Diet & Exercise Plan is available as a 200pg Printed Book and you can get your copy here 
Plus our NEW CALORIE BIBLE is now available – get your copy today! Only $19.95 and a must have in your handbag!
Click HERE to see our shop