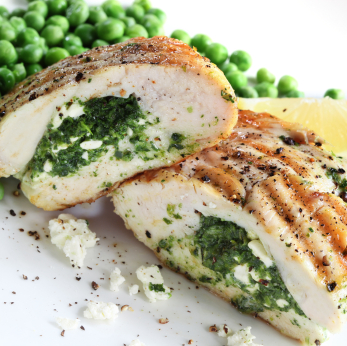 When you are using good quality food for your meals, you can keep things simple with minimal ingredients.
This dish has just 4 key requirements – chicken, spinach, ricotta and parsley.
We love using baby spinach in our cooking. While it is from the same plant as regular spinach, it is picked much earlier in its life cycle. It tends to be sweeter and more tender than its older family members.
Spinach is very low in calories with a cup of baby spinach containing just 7 calories.
And the best part is, while this dish looks really impressive it is actually incredibly easy. But you don't need to tell anyone that…
Ingredients:
200g baby spinach
1 cup low fat ricotta
2 tbsp fresh parsley, finely chopped
4 small chicken breasts
Olive oil spray
Salt and pepper, to taste
Method:
Heat your oven to 200C and line a tray with baking paper.
Place your spinach in a bowl and cover with boiling water. Allow to sit for one minute before draining and rinsing under cold water to stop the cooking process.
Squeeze out any excess water and finely chop the spinach.
Place in a bowl with the ricotta and parsley and stir to combine. Season to taste with salt and pepper.
Take each chicken breast and cut a deep pocket into the side. Stuff with the mixture and secure with a toothpick.
Heat a large frying pan over high heat and spray with olive oil.
Cook the chicken for two minutes on each side, until golden.
Transfer to the baking tray and cook for 15 minutes or until cooked through.
Serve with steamed greens.
Serves: 4. Calories per serve: 385.

GET YOUR 10% DISCOUNT
If you are ready to lose weight then the Lose Baby Weight plans offer a healthy and safe exercise and diet routine and you can get a 10% discount by using code LOYALTY at the checkout
PLUS our BEST SELLING 28 Day Diet & Exercise Plan has now launched as an 84pg Printed Book and you can get your copy here 
Click HERE to see our shop