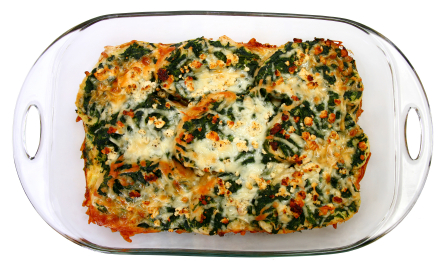 This strata is a terrific tasting dish that makes the most of some everyday ingredients.
It is made by making layers (the 'strata') of bread, vegetables, an egg and milk mixture and some cheese.
You can use any bread you have to hand, such as a sourdough loaf, but the crispiness of a French stick tastes great.
You can also tailor this any way you like, so try adding:
Cherry tomatoes
Black olives
Steamed asaparagus
Grated zucchini
1 tbsp lemon zest
A handful of toasted pine nuts
½ cup of diced bacon
This dish really does taste best if left for the minimum 4 hours or preferably overnight. This gives it a chance for the flavours to develop.
Spinach is a great vegetable to use when you are trying to lose weight as it is not only full of nutrients but also very low in calories (just 24 calories per 100g).
Try serving the strata with a crisp green salad.
Ingredients:
½ a wholegrain French stick, sliced
1 large onion, finely sliced
2 cups of baby spinach
6 eggs
1 cup of milk (skim or full cream)
½ cup low fat feta cheese
Small bunch of fresh basil or parsley leaves
Salt and pepper to taste
½ cup reduced fat cheddar cheese
Olive oil spray
Method:
Spray a large ovenproof baking dish with olive oil to coat.
Place half of the bread on the bottom of the dish.
Heat a frying pan over med/high heat and spray with olive oil.
Cook the onion for a couple of minutes, before adding the spinach and cooking for a further minute.
Drain well and spoon half of the mixture over the bread in the dish.
Top with the rest of the bread and the other half of the onion and spinach.
In a large bowl, whisk together the eggs and milk. Season to taste.
Pour the egg mix over the baking dish and push it down firmly to compact it.
Top with the feta, basil and cheddar cheese.
Cover with foil and refrigerate for at least 4 hours (overnight is even better).
Heat the oven to 180C and bake (still covered) for 30 minutes.
Remove the foil and bake for a further 40 minutes.
Allow to stand for 15 minutes before serving.
Serves: 6. Calories per serve: 240.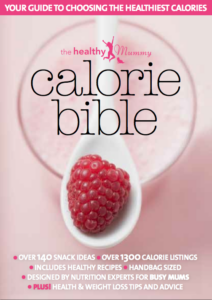 Get Our NEW CALORIE BIBLE HERE today! Only $19.95 and a must have in your handbag!
GET YOUR 10% DISCOUNT
If you are ready to lose weight then the Lose Baby Weight plans offer a healthy and safe exercise and diet routine and you can get a 10% discount by using code LOYALTY at the checkout
PLUS our BEST SELLING 28 Day Diet & Exercise Plan is available as an 84pg Printed Book and you can get your copy here 
Plus our NEW CALORIE BIBLE is now available – get your copy today! Only $19.95 and a must have in your handbag!
Click HERE to see our shop