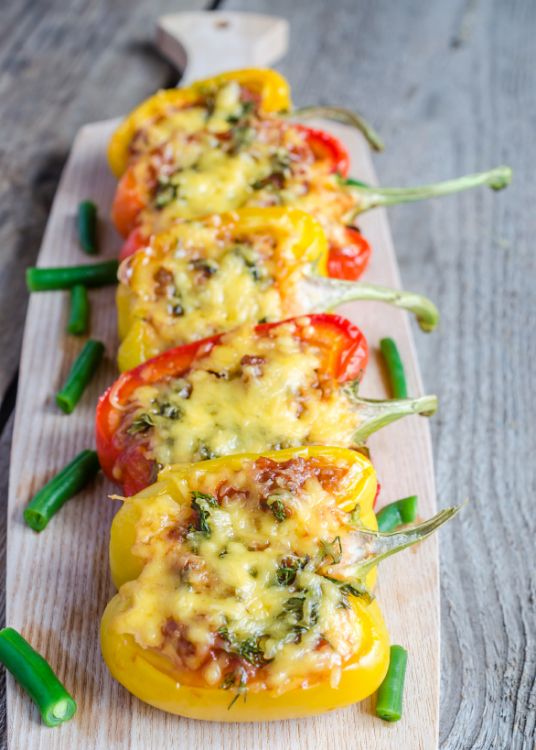 Spicy foods that contain ingredients like chilli are good to include in your healthy eating plan when you want to lose pregnancy weight.
Foods like red chillis, jalapenos and cayenne pepper increase the body's fat-burning ability, ramping up the metabolism and heating the body during cooler weather.
This recipe for Spicy Stuffed Capsicum is an easy-to-prepare meal perfect for the winter months.
Filled with fibre, antioxidants, iron, vitamin c and protein, this low calorie meal delivers many nutritional benefits at the same time as being incredibly tasty!
Ingredients:
300 grams trim lamb mince
1 tablespoon olive oil
1 brown onion, diced finely
1 clove of garlic, minced
1 field mushroom, diced into small pieces
50 grams reduced-fat cheddar cheese
1 large red capsicum, cut in half and deseeded
1 large yellow capsicum, cut in half and deseeded
1 teaspoon of chilli flakes
Pinch of cayenne pepper
1 sprig of fresh dill
Optional Extras:
Use lean pork, turkey, or beef mince instead of the lamb mince
Replace the chilli flakes with fresh, chopped chilli
Use green capsicums instead (green capsicums are usually cheaper too)
Replace the dill with fresh basil or dried oregano
Choose to serve alongside a side salad or steamed green beans
Method:
Heat the olive oil in a large saucepan and fry the onion and garlic for a few minutes until the onion becomes translucent.
Add the minced lamb, chilli flakes and cayenne pepper and cook for 5-6 minutes, until the mince is browned.
Add in chopped mushroom and cook until all the ingredients are cooked.
Remove the mince from the heat, and stuff the hollowed out capsicums with the mince mixture.
Scatter some dill on top, then top with cheese.
Place the capsicums on baking tray or dish, and cook in a preheated oven at 190 degrees Celsius for 20 minutes, until the cheese has browned and the capsicum is cooked.
Serves: 2. Calories per serve: 390
GET YOUR 10% DISCOUNT
If you are ready to lose weight then the Lose Baby Weight plans offer a healthy and safe exercise and diet routine and you can get a 10% discount by using code LOYALTY at the checkout
PLUS our BEST SELLING 28 Day Diet & Exercise Plan is available as a 200pg Printed Book and you can get your copy here 
Plus our NEW CALORIE BIBLE is now available – get your copy today! Only $19.95 and a must have in your handbag!
Click HERE to see our shop