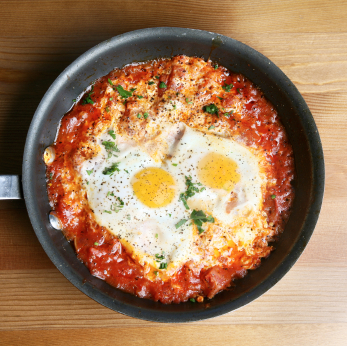 Who says you can't have breakfast for dinner?
This delicious dish is a perfect meal for the cooler weather, and contains load of fresh vegetables, spices, herbs and heart-healthy eggs.
It is a little similar to the Mexican dish huevos rancheros. And in the same way as poached eggs, it is ideal if your eggs are not overcooked so that your fork can pierce through and allow the egg to ooze all over the plate.
This dish is not only great for weight loss as it is low in calories, it's also really fast to make and doesn't use very expensive ingredients.
Serve it up as it is, or with a crisp green salad, soft pita bread, or some wholegrain toast.
You can also tailor it to your own tastes by adding things like:
Coriander
Fresh lemon
Crumbled feta
Diced crispy bacon
A handful of baby spinach
Ingredients:
1 tsp olive oil
1 small onion, peeled and finely diced
1 garlic clove, peeled and finely chopped
1 red capsicum, diced
1 x 400g tin of diced tomatoes
1 tsp paprika
½ tsp chilli powder (to taste)
½ tsp cumin
Salt and pepper to taste
2 eggs
2 tbsp fresh parsley, to serve
Method:
Heat the oil in a medium sized frying pan over med/high heat.
Add the onion and cook until softened.
Add the garlic and capsicum and cook for a further 5 minutes.
Pour in the can of tomatoes, then add the paprika, chilli and cumin and simmer for a further 6-7 minutes until the sauce has reduced.
Season to taste before cracking the eggs directly into the pan.
Cover with a lid and cook for 10 minutes or until the egg whites are firm but the yolks are still runny.
Add the chopped parsley and serve.
Serves: 2. Calories per serve: 195.
Our September 28 Day Weight Loss Challenge is themed the Metabolism Boosting Challenge – if you would like to get a sample of recipes on the menu click below



Or you can join the 28 Day Challenge directly here
Results from mums on the 28 Day Challenge
Mums lose an average of 4-6kg (8-13 pounds) on our 28 Day Challenge and below are some of the amazing results from mums JUST LIKE YOU who are already using the 28 Day Challenge and losing tummy fat – make the change and join them today too!
You can see lots of results and you can join here too
Erin Loses a MASSIVE 44.7kgs on our 28 Day Challenges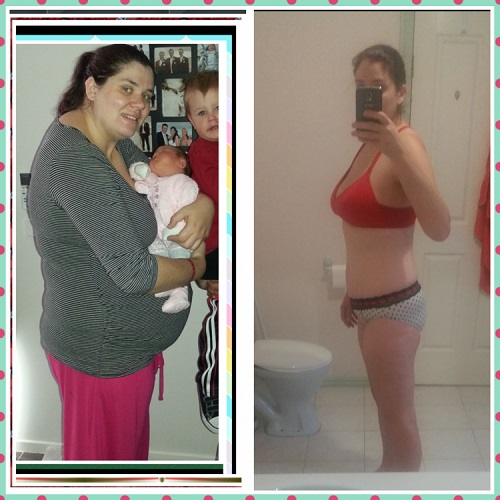 Erin says: "I love the 28 day challenge! It takes all the guess work of "what do i have for dinner" and fumbling around the fridge looking for ingredients before deciding on something "easy" (and usually not healthy!) The best thing is, after doing my weekly shop once the shopping list comes out I have everything I need to make something HEALTHY AND EASY!"
DON'T delay!
Join today and become healthier and fitter this Winter. Join 1000's of other mums on the same journey and be supported every step of the way.
You won't regret it!