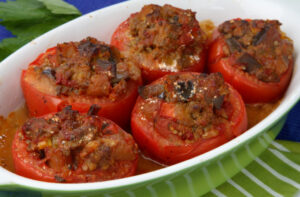 For a bit of a Mediterranean flavour why not try our delicious stuffed tomatoes.
These pair well with lamb chops, grilled chicken breast, or even steamed fish.
You can tailor this dish any way you like by adding your favourite dried or fresh herbs, a bit of feta cheese or perhaps some roasted capsicums.
Ingredients:
4 large ripe tomatoes
1 tbsp olive oil
1 garlic clove, finely sliced
½ an onion, finely diced
200g lean lamb mince
1 tbsp pine nuts
1 tbsp water
1 tbsp breadcrumbs
1 tsp chilli
1 tsp cumin
1 tsp ground coriander
½ tsp ground cinnamon
Fresh rosemary (optional)
Method:
Preheat your oven to 180C.
Cut the tops off the tomatoes, scoop out the centres, and set aside.
Heat the oil in a saucepan and add the onion, cooking for 3 minutes before adding the garlic and cooking for a further minute.
Add the lamb mince and cook until lightly browned.
Add the pine-nuts, reserved tomato centres, spices and breadcrumbs. Cook for a further minute until the mixture is well combined. Add the water to the mixture and stir again.
Place the tomatoes in shallow baking dish.
Spoon the lamb mixture into each tomato, ensuring that they're firmly stuffed. Add rosemary (if using).
Cover with foil and bake in the oven for around 30 minutes.
Serves: 4. Calories per serve: 235.

GET YOUR 10% DISCOUNT
If you are ready to lose weight then the Lose Baby Weight plans offer a healthy and safe exercise and diet routine and you can get a 10% discount by using code LOYALTY at the checkout
PLUS our BEST SELLING 28 Day Diet & Exercise Plan has now launched as an 84pg Printed Book and you can get your copy here. 
Click HERE to see our shop