Healthy snacks will help to keep your weight down by keeping you fuller for longer and for bridging the gap between meals.
Also healthy snacking helps to prevent snacking of unhealthy foods – but this yummy snack in particular is also jam-packed with vitamins and nutrients, meaning that it will not only help to keep your weight down, but it will boost health and wellbeing.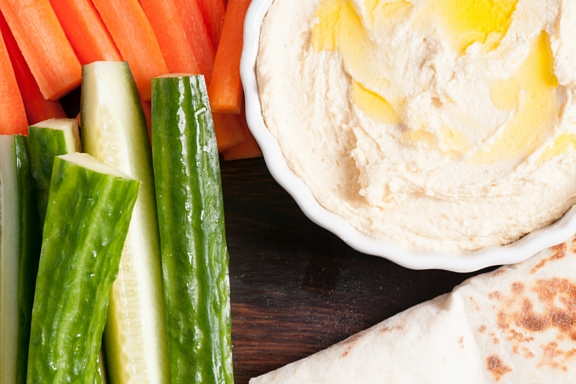 Ingredients
2 x 400g tin chickpeas, drained
2 red capsicum
6 garlic cloves
4 tbsp. water
1 tbsp. extra-virgin olive oil
Juice and zest of one lemon
Large handful fresh basil
1 tsp. cayenne pepper
Salt and pepper
Directions
Roast the red capsicum on a non-stick baking tray in a 220C oven until blackened. Put into a bowl, cover with cling film and leave for ten minutes. Remove the cling, then peel off the skins and remove the seeds.
Place the chickpeas, capsicum, garlic cloves, water, oil, lemon juice and zest, basil leaves, cayenne pepper, salt and pepper into a blender.
Blend until smoothly processed then tip into a bowl, cover with cling film and refrigerate until you're ready to eat it.
Recipe serves 6.
Health benefits of hummus
Hummus is not only delicious – creamy, savoury and garlicky – but it is nutritious. Packed with heart-healthy fats from the extra-virgin olive oil, it also contains lots of protein from the chickpeas, as well as plenty of fibre – both of which will help fill you up.
The garlic and lemon juice in hummus are also packed with antioxidants. Hummus isn't too high in calories either, as long as you regulate the amount you eat. 2 tbsp. hummus contains 54 calories and 2.6g of fat.
Health benefits of cauliflower
Cauliflower is a crunchy, savoury veggie perfect for serving with soft dips such as salsa or hummus. Numerous studies have linked diets containing cauliflower with a reduced risk of certain types of cancers, including breast cancer, ovarian cancer, prostate cancer and bladder cancer.
Cauliflower has a combination of very specific nutrients that are known to support three specific systems within the body – the body's natural detox system, its antioxidant system and its anti-inflammatory system. Cauliflower supports all three systems, and it's known that when there are imbalances in all three of those systems, the risk of cancer increases.
Cauliflower helps to balance those systems, reducing the risk of cancer and improving general health. It's also packed with vitamin C, which reduces stress on cells, and vitamin K, which reduces inflammation. Perhaps the best bit about cauliflower is that it is incredibly low in calories – 60g, which is about half a cup, contains just 14 calories and 0.3g of fat.
Health benefits of capsicum
Capsicum comes in a range of colours, including green, red, yellow, orange and purple. The flavour of capsicum varies depending on colour, but it tends to be a mild, sweet yet savoury flavour. It's crunchy too, make it great for satiating any urges you might have for fatty snacks like crunchy potato chips.
Capsicum is also packed with nutrients, containing 30 different carotenoids, vitamin C and vitamin E. It's one of the only fruits and vegetables that contains so many different nutrients. Cooking capsicums does reduce some of the vitamin and nutrient content of these veggies, so it's best to eat them raw. They're low in calories, too – 1 small capsicum contains around 23 calories and 0.2g of fat.
Health benefits of celery
Celery has long been a health-lover's food – it is listed as a negative calorie food, and although it is incredibly low in calories, containing just 3 calories and 0g of fat in a 5-inch stalk – your body uses more calories to digest it than it contains.
It's also packed with nutrients, including vitamin C, beta-carotene and manganese. It also contains phytonutrients, and these will not be destroyed even if you steam the celery. These phytonutrients are known to produce antioxidant and anti-inflammatory benefits, meaning that regularly consuming celery could help to improve overall health.
Enjoying your snack
We recommend eating 60g of cauliflower at 14 calories, 1 small capsicum at 23 calories, 2 stalks of celery at 10 calories and 4 tbsp. of hummus at 108 calories. In total, this snack contains just 155 calories. Pad it out a little by serving with some crackers and some sliced ham or chicken, or serve it with some potato chips for a treat.
Alternatively, try serving with some nuts for an added boost of heart-healthy omega-3 fatty acids.