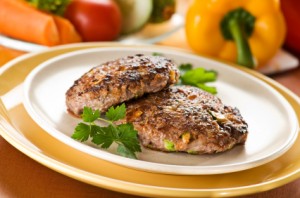 You can't go past the humble burger when it comes to easy, family friendly food. Problem is, when you're trying to lose weight, they are not always the healthiest or lowest calorie option.
Less than lean mince, oodles of additives, sugary sauce and white bread buns put traditional burgers firmly on the 'do not eat' list for many families who are conscious about eating well. While the above ingredients are lacking in the nutrient department, the actual basics of the burger aren't all bad. With a few simple tweaks and healthy additions, you can turn a previous member of the 'no-go' list into a nutritious and delicious menu item.
By choosing lean beef mince (ideally the leanest you can afford to buy) instead of fattier cuts of meat, brown bread crumbs instead of sugary, artificial binding products (to keep the burgers together) and ingredients like cumin and chilli flakes for flavour, you get all the taste and tenderness, without the excess fat and calories.
You can also up the healthy factor by adding extra veggies to your patties. We have added grated carrot and shredded spinach to these patties for a generous serving of fibre, vitamin C, iron and other essential minerals. You could also add other veggies like mushrooms, celery and even cabbage if you had them to hand.
We served these burgers with yoghurt dressing and wholemeal flatbreads but they'd work equally as well with a green salad or other simple side dish.
Enjoy!
Ingredients
300g lean beef mince
30 ml low fat milk
1.5 tbsp olive oil
1 tsp cumin seeds
1/2 tsp dried chilli flakes
1/2 brown onion, diced
35g brown breadcrumbs
1/2 cup grated carrot
1/4 cup shredded spinach
1 cup Greek style yoghurt
Wholemeal flat breads

Directions
Heat 1/2 tbsp olive oil in a small fry pan over medium heat.
Add the cumin, chilli and onion and cook for five minutes or until the onion is translucent.
Remove from heat and set aside.
In a large bowl, combine milk and breadcrumbs.
Add the mince, onion/spice mix, carrot and spinach and mix well.
Shape the mixture into 12 patties.
Heat remaining olive oil in a large frypan over medium/high heat.
Cook the patties in batches for approximately 4-5 minutes each side or until brown and cooked through.
Serve the patties with the yoghurt and flatbread.
Makes 4 serves – Cal per pattie – 125
Need to stock up on Healthy Mummy Smoothies? Then see our shop here
And join our 28 Day Weight Loss Challenges here