While some people completely cut out bread when trying to lose pregnancy weight, we believe that the right types of bread can be included in your healthy eating plan
Sourdough bread is a better option because it has a lower GI than many other breads, so it keeps you feeling fuller for longer and doesn't lead to blood sugar spikes like many overly processed commercial breads.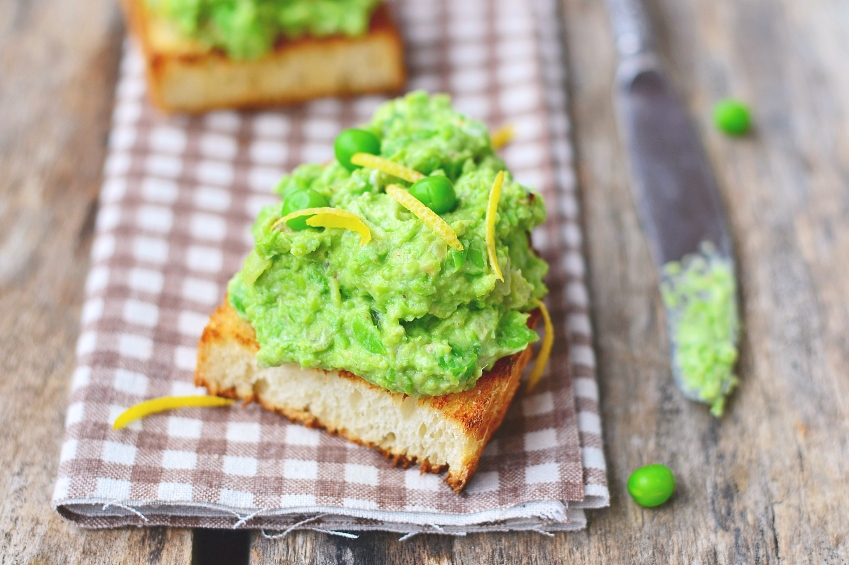 Most of the time we advocate buying fresh vegetables, but frozen peas are one of the best types of frozen vegetables to buy because they are picked and frozen at their freshest.
Affordable, easy to cook and highly nutritious, bags of frozen peas are a great asset to keep in your freezer when you're trying to lose weight.
A good source of fibre, Vitamin A and Vitamin C, frozen peas can be served alongside lean meat as a healthy side dish or added to casseroles, bakes and pasta sauces.
This simple recipe for Smashed Peas on Sourdough shows just one way you can include peas in your lunch.
Ingredients:
150 grams of frozen green peas
2 x small slices of sourdough bread
1 tablespoon of fresh mint, finely sliced
100 grams of reduced fat ricotta cheese
Juice of half a lemon
Lemon rind
Cracked Pepper
1 teaspoon of Olive Oil
Optional Extras:
Blend in some canned cannellini beans with the peas for added fibre
Substitute the ricotta for a small amount of reduced-fat cottage cheese or feta
Serve on rye bread instead of sourdough
Add some slices of avocado on top
Method:
Cook the frozen peas in boiling water for 3-4 minutes, or until tender.
Drain the peas (and set aside a few for presentation) then blend in a food processor with the lemon juice, mint, olive oil, ricotta and pepper. Blend (or pulse) for a short time, making sure that the pea mixture isn't too smooth. A chunkier consistency is what you're looking for.
Toast the slices of sourdough bread, then add the pea mixture on top.
Finish with some small shavings of lemon rind, cracked pepper and a few peas for presentation.
Serves:1. Calories per serve: 387
GET YOUR 10% DISCOUNT
If you are ready to lose weight then the Lose Baby Weight plans offer a healthy and safe exercise and diet routine and you can get a 10% discount by using code LOYALTY at the checkout
PLUS our BEST SELLING 28 Day Diet & Exercise Plan is available as a 200pg Printed Book and you can get your copy here 
Plus our NEW CALORIE BIBLE is now available – get your copy today! Only $19.95 and a must have in your handbag!
Click HERE to see our shop