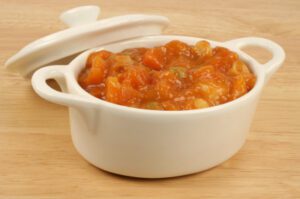 A slow cooker is a great asset to a busy mum and if you are following a weight loss or healthy eating plan there are lots of really healthy recipes that you can make which are fuss free and will help with your weight loss.
We have heaps more weight loss recipes in our recipe section but this Italian Veggie and well flavoured slow cooker feast is made with lots of delicious vegetables and some creamy mozzarella.
Ingredients
1 x 400g tin chopped tomatoes
1 tin of lentils
2 small aubergines
2 medium courgettes
3 beef tomatoes
200g roasted red peppers, from a jar, seeds and skin removed
150g low fat mozzarella, drained
Small handful basil leaves, torn
Small bunch fresh oregano, leaves picked and chopped
4 garlic cloves
Pinch of salt and pepper
Pinch of crushed dried chilli flakes
Directions
Crush three of the garlic cloves. Place into a large saucepan with the chopped tomatoes, half of the oregano leaves, chilli flakes and salt and pepper. Bring to a simmer and cook for 10 minutes or so whilst you prepare the rest of the vegetables.
Slice the aubergines, courgettes and tomatoes into even sized slices. Thinly slice the mozzarella and the remaining garlic clove.
Put a little of the tomato sauce in the bottom of a slow cooker. Layer half of the aubergines, courgettes, tomatoes and red peppers with basil, oregano and seasoning on top of the sauce. Layer with half of the lentils, half of the sliced garlic and half of the mozzarella. Tip on half of the remaining tomato sauce.
Repeat the vegetable and herb layers, this time adding the tomato sauce before you add the lentils garlic and cheese, so you end with a layer of cheese. Push down well to compress.
Cook on high for 5-6 hours until soft.
Recipe serves: 6. Calories per serving: 274.
To see more weight loss recipes with slow cookers click here