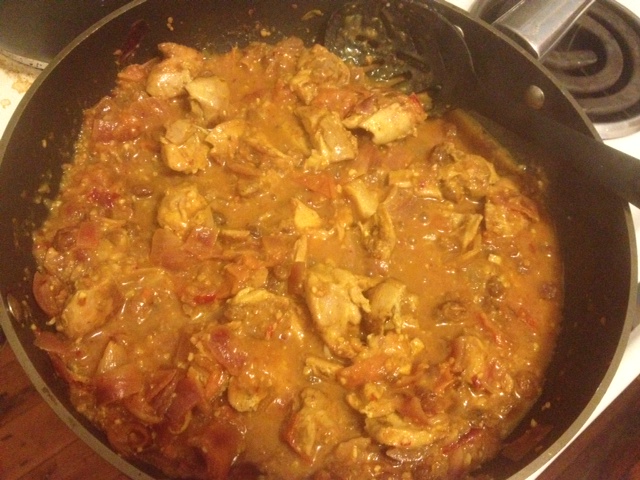 This is a deliciously flavoursome recipe that lets you really go wild in the spice cupboard.
If there are any spices you don't have on hand, don't worry, just wing it from what you have got as it won't be lacking in taste.
There is so much flavour going on in this dish, from the dried spices, to the onions, the lemon, the garlic and the chilli. It's a feast for the senses!
This dish tastes great with some brown rice as per the recipe, or you could have it with some steamed veggies, cous cous or some noodles.
Please don't be put off by what looks like a long list of ingredients and directions, it really is a simple dish that is worth trying out.
Ingredients:
6 chicken thighs, trimmed of fat
1 tsp cumin, coriander, turmeric, cinnamon
Salt and pepper
1 tbsp olive oil
Zest and juice of 1 lemon
2 medium sized tomatoes, diced
1 medium red onion, peeled and diced
2 tsp vegetable stock powder
1 tsp chopped chilli
1 tsp finely chopped garlic
2 tsp finely chopped ginger
Water, as needed
¼ cup sultanas
For the rice:
1 cup brown rice
2 cups cold water
Method:
First, get your rice on to cook.
Place the brown rice and the cold water into a saucepan over high heat.
When it comes to the boil, reduce the heat to low, add a lid and cook for 30 minutes until the water has absorbed.
While the rice is cooking, chop your chicken into big chunks
Lay out some greaseproof paper and add the dry spices, including salt and pepper.
Place the chicken onto the paper, turning it over to let it get coated in the spices.
Heat the olive oil in a large frying pan over med/high heat.
Cook the chicken until browned all over, set aside.
Add the onions and tomatoes to the pan, stir well.
Add the rest of the ingredients and stir to combine.
Place the chicken back into the pan and just cover with water.
Put the lid on and cook on a high simmer for 20 minutes.
Remove the lid and cook for a further 5 minutes.
Serve the chicken with the cooked brown rice.
Serves: 4. Calories per serve: 280 including rice.

GET YOUR 10% DISCOUNT
If you are ready to lose weight then the Lose Baby Weight plans offer a healthy and safe exercise and diet routine and you can get a 10% discount by using code LOYALTY at the checkout
PLUS our BEST SELLING 28 Day Diet & Exercise Plan is available as a 200pg Printed Book and you can get your copy here 
Plus our NEW CALORIE BIBLE is now available – get your copy today! Only $19.95 and a must have in your handbag!
Click HERE to see our shop