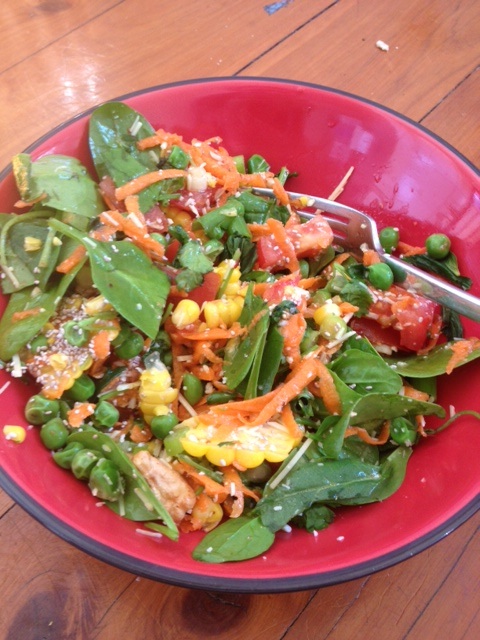 Here is a totally delicious salad, perfect for a healthy and nutritious lunch for one.
This recipe came about when my toddler refused to eat his corn and peas – which meant I needed to find a way to use them up.
There is so much colour and some wonderful fresh flavours in this salad.
It could also benefit from a handful of fresh herbs if you have any (think basil, coriander or parsley).
Keeping good quality Parmesan in the fridge is a great way to add a little indulgence to a healthy meal.
The good thing is that you don't need to use very much so it's not going to cause a calorie blow out.

Ingredients:
½ cup of cooked peas
1 corn on the cob, corn removed (or use half a can)
Big handful of baby spinach
1 tomato, roughly chopped
1 carrot, peeled and grated
Juice and zest of one lemon
1 tbsp olive oil
1 tbsp Parmesan cheese
Salt and pepper, to taste
Method:
In a large bowl, combine the peas, corn, spinach, tomato and carrot.
Squeeze over the juice of the lemon, and then add the zest.
Drizzle with the olive oil, season to taste, and sprinkle with Parmesan cheese.
Serves: 1. Calories per serve: 349.

GET YOUR 10% DISCOUNT
If you are ready to lose weight then the Lose Baby Weight plans offer a healthy and safe exercise and diet routine and you can get a 10% discount by using code LOYALTY at the checkout
PLUS our BEST SELLING 28 Day Diet & Exercise Plan has now launched as an 84pg Printed Book and you can get your copy here 
Click HERE to see our shop