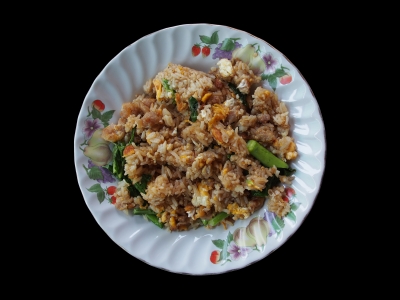 Next time you're cooking some brown rice, make some extra to use in this delicious recipe the next day.
Nasi Goreng (Indonesian Fried Rice) is really easy to cook and makes the most of the leftovers.
Like a stir fry, there is no strict recipe for this dish, so you can add whatever veggies you have on hand.
You can also mix it up in terms of extras – why not add some prawns or chicken if you feel like it.
If you don't have any kecap manis on hand (it's a sweet soy sauce) you can normally find it in most Asian supermarkets. You can always use regular soy sauce if you can't find it.
Ingredients
3 cups cooked brown rice, cooled
1 clove garlic, thinly sliced
2 tbsp olive oil
2 tsp ground coriander
2 tsp cumin
5 green onions, chopped
1 carrot, peeled and sliced
3 celery stalks, sliced finely
1 bunch bok choy
4 tbsp kecap manis (or soy sauce)
1 small red chilli, finely chopped (optional)
Salt and pepper, to taste
To serve:
1 egg
Small bunch of coriander or parsley
Handful of peanuts
Lemon wedges
Directions
Heat the oil in a large frying pan on med-high heat. Add garlic, ground coriander, cumin and green onions.
Stir fry for 3 minutes and then add in the carrot, celery and bok choy.
Cook for another 3 minutes before adding your rice one cup at a time. Stir well to ensure the rice gets coated with the spices.
Add the kecap manis and chilli, then season to taste with salt and pepper.
Crack the egg over the mixture and stir until it is cooked through.
Place into bowls, adding the fresh herbs, peanuts and lemon wedges before serving.
Serves: 4. Calories per serve: 399.

GET YOUR 10% DISCOUNT
If you are ready to lose weight then the Lose Baby Weight plans offer a healthy and safe exercise and diet routine and you can get a 10% discount by using code LOYALTY at the checkout
PLUS our BEST SELLING 28 Day Diet & Exercise Plan is available as an 84pg Printed Book and you can get your copy here 
Plus our NEW CALORIE BIBLE is now available – get your copy today! Only $19.95 and a must have in your handbag!
Click HERE to see our shop