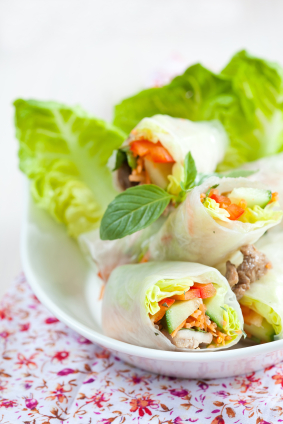 Some days it can be so tempting to pick up some take away on your way home.
But if you are trying to lose weight and eat healthy food here's a great option that is a) healthier b) much cheaper and c) super tasty.
Grab a cooked BBQ chicken instead. They are available from most supermarkets these days, or from your local chicken shop.
All the hard work is done for you. Simply set aside the skin and pull of the hot chicken to use in any number of ways.
From a simple salad to a piping hot pizza, there is something that everyone will love.
A healthy dinner in less than 15 minutes? Yes please!
Sweet Chicken Curry Cous Cous
Place a cup of cous cous into a bowl. Add ¼ cup of sultanas, a cup of hot water, and 2 tbsp curry powder. Season to taste and set aside for 5 minutes. Chop up a red capsicum, a cucumber and some raw snow peas. Fluff up the cous cous with a fork and add the fresh veggies and the cooked chicken.
DIY Rice Paper Rolls
For this recipe, simply chop up strips of avocado, red capsicum, cucumber, carrot, chicken, bean sprouts and coriander. Place in the middle of the table and let everyone make their own rice paper rolls. Dip a rice paper sheet into a bowl of warm water and then lay it on a damp tea towel. In the centre, place your chosen ingredients in the centre. Bring the edges of the paper into the centre and then bring the top down to roll it all together.
Chicken and Pesto Toasties
Pesto is a great flavour enhancer to keep on hand. You can buy it from the supermarket, or it is actually really easy to make yourself too. Grab some wholegrain bread and spread with some low fat cream cheese or cottage cheese. Dollop on the pesto, and sprinkle with the chicken pieces and some baby spinach. Place in a sandwich press and cook until golden.
Pantry Cupboard Salad
Make a salad using baby spinach leaves and the cooked chicken; along with a tin of corn, a tin of chickpeas, some tinned baby beets and a handful of walnuts. Drizzle with olive oil and the juice of a lemon. Season and serve.
Flatbread Pizzas
Grab some wholegrain wraps or flatbreads to use as a pizza base. Smear with tomato paste, oregano, chilli flakes and fresh ginger. Sprinkle over the chicken, along with some olives, cherry tomatoes and feta. Bake in the oven until the edges are golden.


Need to stock up on Healthy Mummy Smoothies? Then see our shop here
And join our 28 Day Weight Loss Challenges here