'Hi my name is Liz and I am a 32 year old full time mum of 2 beautiful little girls, Imogen 2 years and Emilia 8 months.
Back in 2011 when I fell pregnant with my first daughter I was carrying about 10kg too much, weighing in at 65kg.
I vowed I would watch what I ate through my whole pregnancy, which I did and only put on 15kg. I managed to lose 13kgs of my baby weight before falling pregnant with my second daughter 8 months later.
Again I watched what I ate during my pregnancy and managed to only put on 13kg, this put me up to 80.5kg.
2 months after having my 2nd daughter I decided to give Lose Baby Weight a try, as the weight was becoming difficult to shift.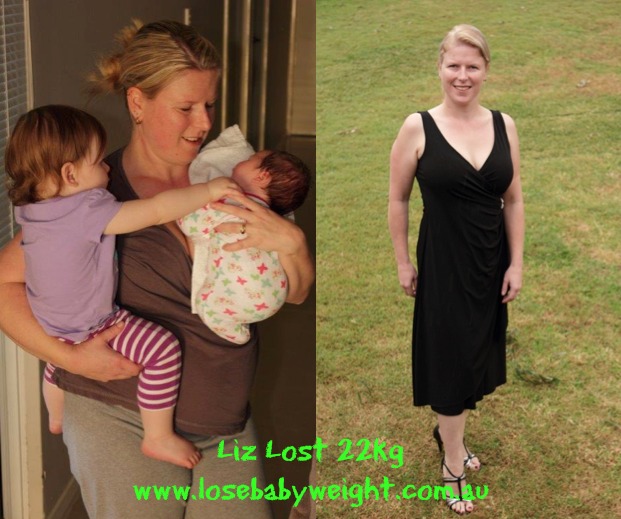 With 2 little girls I was finding it difficult to eat regularly and I know from experience that this would not be helping with my weight loss.
The The Healthy Mummy Smoothies provided me with an easy and fast way to have something to eat whilst still being able to meet the needs of both my children.
Even when we moved from WA to NSW at the start of January 2013 I was able to continue my weight loss journey with ease.
6 months after starting on Lose Baby Weight I have lost 22kgs, weighing 58.5kg and only have 3.5kgs to go in order to achieve my goal weight of 55kgs.
All of my friends and family have commented on how healthy and well I am looking since starting The Healthy Mummy Smoothies.
I have even had a couple of friends start on them as well due to the success that they have seen me have.
My goal for the month of June is to reach 56.5kg by using the smoothies, eating healthy and exercising.
I cannot recommend The Healthy Mummy Smoothies and the Lose Baby Weight programs enough.
They have provided me with an achievable and easy way for dropping the excess weight whilst being able to give my children and husband the attention and love that they all deserve.'
– Liz Banks


GET YOUR 10% DISCOUNT
If you are ready to lose weight then the Lose Baby Weight plans offer a healthy and safe exercise and diet routine and you can get a 10% discount by using code LOYALTY at the checkout
PLUS our BEST SELLING 28 Day Diet & Exercise Plan has now launched as an 84pg Printed Book and you can get your copy here 
Click HERE to see our shop