What a month it has been, it is the end of October and it is time for my final post and weigh in as a motivating mum. I can't believe how quickly this month has gone and how much has happened, I am so surprised by what I have achieved within such a short space of 4 weeks!!!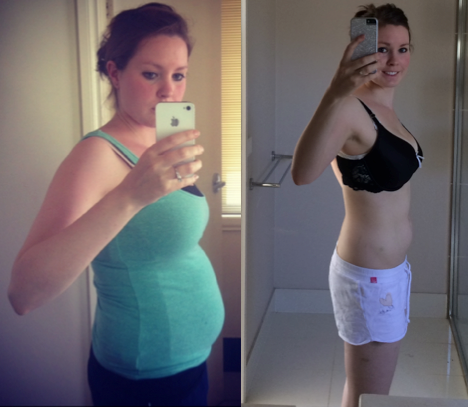 At the start of the month I was a mere 200g off my goal weight of 58kgs, now I am so happy and proud to say that I have smashed my goal weight and weigh in at 56kgs. I haven't been this fit and energetic since mid high school when I used to horse ride and exercise was a part of daily life. Here is my weight loss for this month (in total I have lost 18kg on the Lose Baby Weight plans):
| | | |
| --- | --- | --- |
|   | Start of October | End of October |
| WEIGHT | 58.2kgs | 56.0kgs  -2.2kgs |
| THIGHS | 52.5cm | 48cm  -4.5cm |
| HIPS | 89cm | 83cm  -6cm |
| BUST | 91cm | 85.5cm  -5.5cm |
| WAIST | 73cm | 69cm  -4cm |

I feel fantastic and have learnt so much over the last month thanks to Lose Baby Weight's programs and the exercise DVD. My energy levels have been up and my depression symptoms have been far and few between. I have still had some bad days during the past month (emotionally) but having the exercise and diet plan has really helped me overcome the bad days, just knowing that everything I needed to know and do was already planned out for me has been such a stress reliever for a busy mummy of two boys.
I also had a blow out day diet wise because it was my hens night, I didn't get too worried about it because I knew that when I had recovered I would return back to my much loved diet and exercise regime (which I have and loving it!). I have found that when I do have a bad day or moment with junk food (which isn't very often these days), I always feel yuck afterwards and it confirms that my healthy diet is making such a difference and is WORKING!!!
The yummy healthy mummy smoothies have also been a complete life saver during busy lunch times because they are so easy to whip up and are so healthy/filling. I have stepped out of my comfort zone with the different smoothie recipes I tried this month and I can tell you I don't regret it! I loved all of them and it was fun flicking through the spring and summer cook book and the 28 day diet and exercise plan to choose what I wanted for that day (they were usually chocolate ones yum).
Some other things that I have learnt this month are:
Amazing things can be achieved if you focus and really commit to this plan (I don't say diet because it is a plan for a new and improved lifestyle)
What a difference it makes when you eat nutritious foods in regard to energy levels, moods and fighting illnesses. I caught a cold from my toddler during the month but was amazed when my body fought it off very quickly!
Don't just look at the numbers on the scale, measure your success by how you feel and your measurements in conjunction with the scales, sometimes building lean muscle can make the scale stay still, you are becoming stronger and fitter so the numbers don't mean as much!
How much of a difference it makes being a part of a supportive group like lose baby weight, they really care about their customers and WANT them to succeed in living a healthier and happier life. They are not about fad diets or quick weight loss which can be dangerous, especially if you are a breastfeeding mummy. They acknowledge that everyone is different and weight loss should be done at your own pace.
So thank you lose baby weight for the opportunity to share my story with all the amazing mums who follow or are thinking about following your program. You have been an amazing support. To all the mums out there, you are amazing and if you can bring a beautiful life into this world you can achieve anything! 0x
GET YOUR 10% DISCOUNT
If you are ready to lose weight then the Lose Baby Weight plans offer a healthy and safe exercise and diet routine and you can get a 10% discount by using code LOYALTY at the checkout PLUS our BEST SELLING 28 Day Diet & Exercise Plan is available as an 200pg Printed Book and you can get your copy here  Plus our NEW CALORIE BIBLE is now available – get your copy today! Only $19.95 and a must have in your handbag!
Click HERE to see our shop