Hi, my name is Samantha Tetsuka and 14 months ago I gave birth to a beautiful baby girl named Sara. During my pregnancy I only gained 10 kg. I tried hard to eat right and exercise daily.
But after Sara was born I found it harder and I had less time to exercise. 8.5kg of the 10kg I lost nearly straight away but then when my mum left I didn't have any other help and I then started eating anything that was very quick to prepare – for me that's carbs. My weight has fluctuated to 2-3.5kg kg of my baby weight since giving birth. I was overweight before I had Sara weighing 79kg.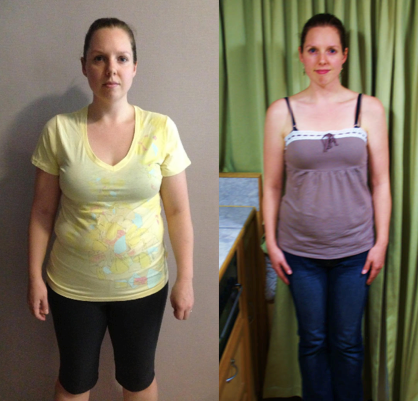 I started the Lose Baby Weight 28 Day Diet and Exercise plan at the beginning of the Summer challenge 2013 and I weighed 83kg. I am now proud to say that I am lighter than when I met my husband at 69kg!
The Lose Baby Weight 28 Day Plan is invaluable. It has great recipes, exercises and best of all 4 weeks of healthy eating plans where you don't have to think about what to cook – the thinking is already done for you. A lot of other mums talk about re-educating themselves about portion sizes, well I was one of those mums. I would have half the plate of carbs and the other half was protein and vegetables instead of half vegetables and a quarter protein and a quarter carbs.
The Healthy Mummy smoothies are delicious! They are filling and you can't get bored with them because there are so many different recipes. My favourite is with the chocolate smoothie mix, half a banana, shredded coconut, milk and a tablespoon of yoghurt. Yum!!
My husband was initially very hesitant about this because I hardly ever finish something once I begin, but after seeing the results and that I am committed to this new way of life, he's now onboard and loves the recipes he has lost about 5kg himself J
I have also started using the Healthy Mummy Post Pregnancy Exercise DVD and it's wonderful. It's great to keep changing your workout every once in a while and you can really feel like you have done a great full body workout just over an hour if you do the whole video. I feel it was a worthy investment!
This month my goal is to really focus on fitness. I really want to tone up more. I plan on doing this by doing the whole DVD, walking 30 minutes and doing a minimum of 50 squats every day. My motivation is trying to get into a pair of size 12 shorts comfortably!
I have lost 14kg, 10.5cm from my bust, 12.5cm from my waist, 14cm from my hips and 10cm from my thighs 🙂 If I can lose this weigh and all those cm's then you can too!
GET YOUR 10% DISCOUNT
If you are ready to lose weight then the Lose Baby Weight plans offer a healthy and safe exercise and diet routine and you can get a 10% discount by using code LOYALTY at the checkout
PLUS our BEST SELLING 28 Day Diet & Exercise Plan is available as a 200pg Printed Book and you can get your copy here 
Plus our CALORIE BIBLE is now available – get your copy today! Only $19.95 and a must have in your handbag!