I am so thrilled I stumbled across Lose Baby Weight site and products. My friend "Liked" your page and I clicked straight on it, and liked it also.
I was late in my pregnancy and read your articles thoroughly. I guess I started during pregnancy just being healthy and getting in the mind-set of losing the weight after my baby was born.
I have always been healthy enough but always felt I wanted to lose just 5 more kilos. I started off at 62kg before kids, I ballooned with my first pregnancy (Twisties, anyone?) and put on 18kg, it was all on my bum and face.
After my son was born I dropped back to 64kg. Then pregnant for the second time with my daughter I made a conscious effort to not put on so much, only putting on 11kg with her. I was a lot healthier and ate a lot of oranges during that winter. Then I dropped the weight to 64kg again, only to put on a few more as I had mild post-natal depression.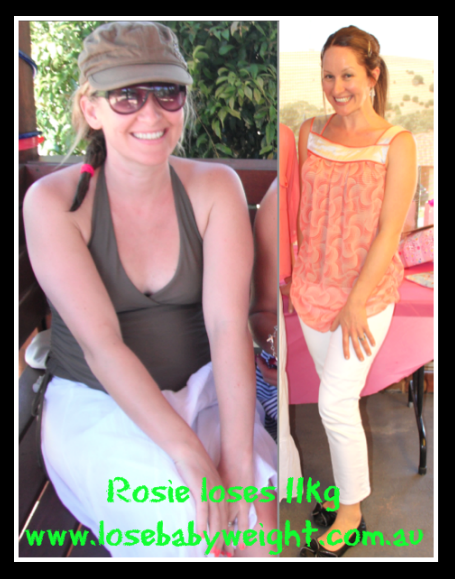 I just always hovered around the 64kg mark but felt too heavy, as I am only 5ft4.
Then we had a surprise pregnancy and put on again, 11kg. However this time after finding LOSE BABY WEIGHT I lost it all – AND THEN MORE!
I started on the healthy mummy smoothie plan, they were beautiful and tasty and having three kids, nice and fast. I never felt hungry, ate three meals and 2-3 snacks a day, felt great as each morning I'd step on the scales and the kilos were dropping fast.
In just 6 weeks I was back to my pre-pregnancy weight, and now, six months after our little baby girl was born, I'm sitting happily at 58kg.
Lose Baby Weight – your team give so much to us. At a time when its easy to stack on some extra kilos, your website and daily emails offer easy health tips (I love the recipes) and motivation to keep going.
The best part of the plan is not cutting anything out. I love my carbs. Love bread, rice, pasta, desserts all of it! It's about moderation now. I walk when I can and run around with my kids. I dance silly in front of my baby and she thinks it's hilarious. You don't need a gym. I did the 12km city to bay walk when my baby was just 4 months old and felt so proud.
I am busier than ever and people come up to me and ask how I did it, even strangers say "You don't even look like you've had a baby" and I always recommend Lose Baby Weight.
It's a true gift, I love waking up with my new body, buying new clothes, feeling great, energetic, getting compliments… and I know I can keep at my healthy weight now. It's all apples almonds and water for me, I know what my body wants.
Thank you a million times
If you are ready to lose weight then the Lose Baby Weight plans offer a healthy and safe exercise and diet routine that are safe in breastfeeding and can help support your milk supply

And don't forget to check out our current promotions and discounts page to see what specials we have on this week on our Healthy Mummy product range