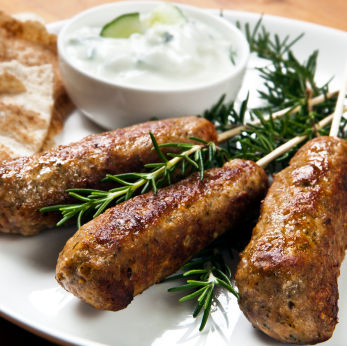 I'm not sure what is it about food on a stick that adults and kids seem to love, but these koftas are no exception.
Cook them on a BBQ or in a frying pan and serve with our healthy dipping sauce.
And with just 6 ingredients for the koftas, they are really simple to prepare.
You can even keep some leftover koftas in the fridge for a healthy protein rich snack the next day.
When you are trying to lose weight, it's important to buy the best quality mince that you can afford. Premium or diet mince tends to have less fat than traditional mince, so it is much healthier for you.

Ingredients:
Koftas:
500g lean lamb mince
1 tsp cumin
2 tsp coriander
2 garlic cloves, peeled and finely diced
1 tbsp chopped rosemary
Olive oil spray
Tzatziki:
1 large telegraph cucumber, peeled and diced
1 cup natural yoghurt
1 garlic clove, peeled and very finely diced
Handful of fresh mint leaves, chopped
Salt & pepper to taste
Method:
Mix all of the kofta ingredients in a large bowl.
Divide the mixture into 8 balls.
Using wet hands, roll the balls on a board into long thin tubes.
Heat a frying pan or BBQ on high heat.
Thread the koftas onto wooden or metal skewers and spray with olive oil.
Cook for around 4 mins on each side, until golden.
To make the tzatziki, place all ingredients in a bowl and bring together with a spoon.
Serve the hot koftas on a plate with the tzatziki.
Koftas: Serves: 4. Calories per serve: 220.
Tzatziki: Serves 4. Calories per serve: 105

GET YOUR 10% DISCOUNT
If you are ready to lose weight then the Lose Baby Weight plans offer a healthy and safe exercise and diet routine and you can get a 10% discount by using code LOYALTY at the checkout
PLUS our BEST SELLING 28 Day Diet & Exercise Plan is available as an 84pg Printed Book and you can get your copy here 
Plus our NEW CALORIE BIBLE is now available – get your copy today! Only $19.95 and a must have in your handbag!
Click HERE to see our shop