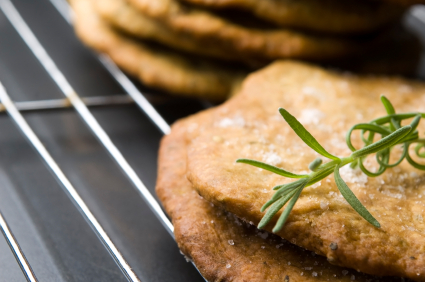 When the festive season rolls around, out come the fruit and cheese platters.
Instead of serving up some regular crackers from the supermarket (or forking out mega-bucks for fancy crackers from the deli) – why not try making your own at home?
Not only are they delicious, they also manage to avoid some of the less desirable ingredients in commercial biscuits such as sugar – always a good thing when you are trying to lose weight.
Plus you can use wholemeal flour – which is quite hard to come by in a store-bought cracker biscuit.
These crackers make a lovely gift for the food lover in your life. Wrap up in some clear paper with a festive ribbon and take along with a nice wedge of cheese.
This recipe makes large crackers which you can then snap before placing on your cheese platter.
These crackers are a cinch to make and can be tailored to suit your tastes (or cheese selection).
Why not try making a cracker with:
Parmesan and black pepper
Sesame seeds and poppy seeds with sea salt
Finely chopped raisins with rosemary
Ingredients
1 ¾ cups plain wholemeal flour
2 sprigs of fresh rosemary, leaves finely chopped plus some extra
1 tsp baking powder
3/4 tsp salt
1/2 cup water
1/3 cup olive oil plus some extra
Coarse sea salt, extra
Directions
Heat up your oven to 230°C and place a flat baking tray in the oven to heat up.
In a large bowl, sift the flour, baking powder and salt; then add the chopped rosemary.
Gently mix the ingredients together while you gradually add the oil, and then the water.
Use your hands to bring the dough together into a ball.
Knead carefully for 20 seconds on a floured board.
Make 3 balls from the dough and lay one out on a piece of baking paper to fit your tray.
Cover the other 2 balls of dough with cling film so they don't dry out.
Roll out the dough very thinly into an oval shape.
Brush the top with olive oil, and scatter a few pieces of rosemary and sea salt on top. Press down into place.
Place the dough on the paper onto the hot tray.
Bake for 8-10 minutes or until the cracker is golden.
Allow to cool while you continue with the other 2 balls of dough.
Once completely cooled, break up into pieces to serve.
These store well in an air tight container for several days.
Serves: 10. Calories per serve: 167.

GET YOUR 10% DISCOUNT
If you are ready to lose weight then the Lose Baby Weight plans offer a healthy and safe exercise and diet routine and you can get a 10% discount by using code LOYALTY at the checkout
PLUS our BEST SELLING 28 Day Diet & Exercise Plan is available as a 200pg Printed Book and you can get your copy here 
Plus our NEW CALORIE BIBLE is now available – get your copy today! Only $19.95 and a must have in your handbag!
Click HERE to see our shop