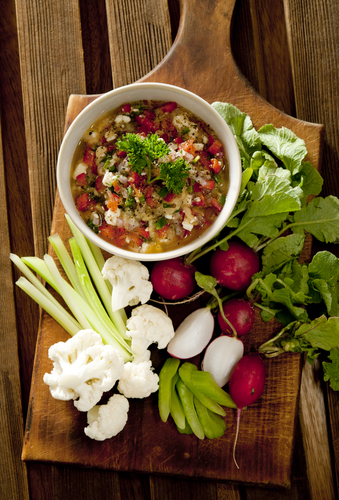 Here's a delicious and super nutritious healthy eating dip or spread that you can make at home.
Perfect for a light meal or a healthy eating snack, it makes the most of freshly roasted veggies, fresh parsley and some low fat feta.
Dips are a great way to sneak veggies into your kids as well, so feel free to let them tuck in too!
Ingredients:
1 eggplant, large
1 red capsicum, large
2 tbsp olive oil
½ cup crumbled low fat feta
½ cup fresh parsley leaves
Juice and zest of ½ a lemon
1 tbsp natural peanut butter or tahini
Salt and pepper to taste
Method:
Preheat your oven to 200C and line a tray with baking paper.
Carefully remove and discard the seeds from the capsicum.
Place the whole eggplant and capsicum on a baking tray.
Drizzle with 1 tbsp of the olive oil and roast for around 45 minutes.
Don't worry if the capsicum gets burned. Set aside to cool.
Cut the eggplant in half and scoop out the flesh, discarding the peel.
Chop the capsicum finely and add to the eggplant along with the feta, parsley, lemon, peanut butter and remaining oil.
Stir well and season to taste.
Serve with toasted pita bread, celery sticks, lightly steamed cauliflower, or carrot sticks.
Serves: 6. Calories per serve: 105.

GET YOUR 10% DISCOUNT
If you are ready to lose weight then the Lose Baby Weight plans offer a healthy and safe exercise and diet routine and you can get a 10% discount by using code LOYALTY at the checkout
PLUS our BEST SELLING 28 Day Diet & Exercise Plan is available as a 200pg Printed Book and you can get your copy here 
Plus our NEW CALORIE BIBLE is now available – get your copy today! Only $19.95 and a must have in your handbag!
Click HERE to see our shop