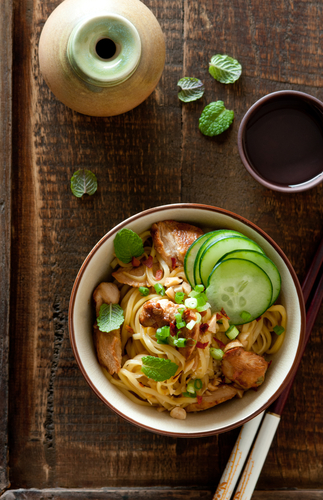 Next time you have some leftover roast chicken, try this simple healthy eating noodle salad for lunch the next day.
Simply cook the noodles, whisk the dressing together, and throw everything in a bowl to serve. It couldn't be simpler!
Feel free to add some healthy eating fresh veggies to the salad too – think chopped snow peas, thinly sliced carrot, radish or some steamed asparagus.
Ingredients:
1 leftover roast chicken breast, chopped into bite size pieces
Handful of fresh mint leaves
200g noodles of your choice, such as udon
2 tbsp 100% peanut butter
2 tsp soy sauce
1 tsp sesame or olive oil
Juice of 1 lime
1 small sliced cucumber, to serve
3 green shallots, chopped, to serve
Method:
Cook the noodles according to packet directions, set aside to cool.
Make the dressing by placing the peanut butter, soy, sesame oil and lime into a jar and shaking well to combine.
Serve the noodles into two bowls, and top with the chopped chicken and mint leaves.
Drizzle noodles with the dressing and sprinkle with shallots.
Add sliced cucumber to serve.
Serves: 2. Calories per serve: 378.

GET YOUR 10% DISCOUNT
If you are ready to lose weight then the Lose Baby Weight plans offer a healthy and safe exercise and diet routine and you can get a 10% discount by using code LOYALTY at the checkout
PLUS our BEST SELLING 28 Day Diet & Exercise Plan is available as a 200pg Printed Book and you can get your copy here 
Plus our NEW CALORIE BIBLE is now available – get your copy today! Only $19.95 and a must have in your handbag!
Click HERE to see our shop