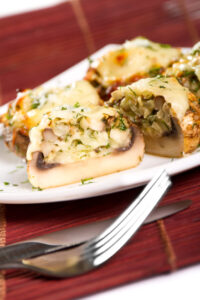 Today we have a delicious and simple recipe for the humble mushroom.
Mushrooms are very low in calories – 100g of chopped button mushrooms contains just 16 calories. This is great news when you are trying to lose weight as you can fill up on healthy veggies like these, and know you are on the right track.
Mushrooms are the only fruit or vegetable that contain Vitamin D (AKA the 'sunshine' vitamin – leave them on a sunny windowsill to increase the content). They are also high in fibre and protein.
This recipe uses the mushrooms as a 'cup' to hold the ricotta, lemon and fresh herbs. These are a great side dish for a BBQ, or a delicious entrée served with a crisp rocket salad.
Try to find the larger sized mushrooms – about the same size as the rim of a teacup ideally.
You can use ricotta as suggested below, or any soft cheese works well. You can also tailor the herbs used to your own taste.
Ingredients:
4 large flat mushrooms
1 tbsp olive oil
250g ricotta cheese
1 tbsp finely grated lemon rind
Small bunch fresh parsley
2 cloves garlic, finely chopped (or 2 tsp from a jar)
20g finely grated Parmesan cheese
Salt and pepper, to taste
Method:
Heat your oven to 200C and line a tray with baking paper.
Trim the stems from the mushrooms and chop finely. Place the mushrooms onto the tray and brush all over with the olive oil.
In a bowl, combine the mushroom stems, ricotta, lemon, parsley and garlic. Season to taste.
Divide the ricotta mixture between the four mushrooms, packing it tightly into each cup. Sprinkle the top of each with the Parmesan cheese.
Place in the oven for 15-20 mins or until the tops are golden brown and the mushrooms are tender.
Serves: 4. Calories per serve: 170.

Need to stock up on Healthy Mummy Smoothies? Then see our shop here
And join our 28 Day Weight Loss Challenges here