Pork Stuffed Capsicum
These simple pork peppers take just 25 minutes to cook and 10 minutes to prepare.
Ingredients
4 capsicum
200g lean minced pork
50g bulghar wheat (or use quiona/cous cous or brown rice)
2 tsp. ground cumin
1 tsp. paprika
1 garlic clove
250ml vegetable stock
Small handful fresh parsley
4 tbsp. low fat sour cream
Salt and pepper
Directions
Slice the capsicum in half and remove the seeds and cores. Place cut side down on a plate, cover with cling wrap and cook for 4 minutes until cooked through, but not so soft they collapse. Remove from the microwave and arrange in a baking tin cut side up.
Heat the pork mince in a frying pan. Cook until starting to brown, breaking up with your spoon. Drain of excess fat. Mince the garlic clove and add to the pan along with the paprika and cumin and a good pinch of salt and pepper. Stir well to combine, cook for a couple of minutes then add the bulghar wheat and stock. Stir and bring to a simmer. Cook for 10 minutes.
Preheat the grill to a medium high heat. Stir half the parsley into the pork mixture. Spoon into the capsicum, then cook for 3-5 minutes until crisp. Stir the remaining parsley into the sour cream and dollop onto the capsicum to serve. Serve with a big salad
Recipe serves: 4. Calories per serving: 185.
Sausage Rolls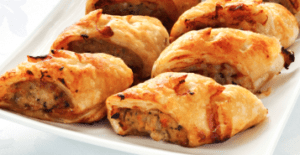 Sausage rolls are a yummy treat for all ages – but they don't have to be filled with fat. This clever recipe uses lentils to plump out the pork mince.
Ingredients
300g lean pork mince
50g fresh wholemeal breadcrumbs
100g cooked drained lentils, from a tin
1 shallot
2 tsp. finely chopped fresh tarragon
Pinch each ground mustard, ground nutmeg, salt and pepper
1 tsp. oil
½ ready-rolled 375g puff pastry
2 tsp. skim milk
Directions
Heat the oven to 200C. Finely dice the shallot. Heat the oil in a frying pan and fry the shallot until softened, a couple of minutes. Tip from the pan and leave to cool slightly.
Mash the lentils in a bowl with a spoon or masher, and add the cooked shallot, pork mince, breadcrumbs, tarragon, mustard, nutmeg, salt and pepper. Stir to combine. Halve the filling and roll each half into a thin 25cm long sausage.
Roll out the pastry on a floured work-surface until 28cm by 28cm. Slice in half, so you have two rectangles. Lay one sausage onto each rectangle, roll up and brush the opposite long side with milk. Press the edge down to seal, then seal the ends of the sausages. Cut each sausage into 8 small sausages, gently score each sausage roll a couple of times with a knife and brush each sausage with any remaining milk.
Place the sausage rolls onto a tin lined with parchment paper and bake for 18-20 minutes until golden.
Recipe serves: 8. Calories per serving: 198.
Sticky Pork Steaks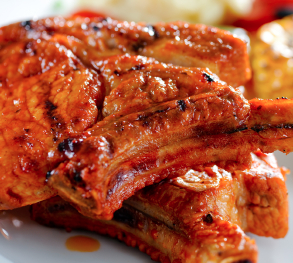 These sticky pork steaks are perfect for children and the smoky corn on the cob accompaniment adds an extra bit of sweetness and crunch.
Ingredients
4 pork loin steaks, trimmed of fat
4 corn on the cobs
2 tsp. low sugar tomato ketchup
1 tbsp. white wine vinegar
1 tsp. paprika
Salt and pepper
1 tbsp. olive oil
Directions
Combine the tomato ketchup, white wine vinegar, salt and pepper in a small bowl. Bring a large pan of water to the boil and add the corn on the cobs. Reduce to a simmer and cook for 5-8 minutes until tender.
Heat a frying pan until hot. Add the pork steaks and cook on either side for 3-4 minutes. Halfway through cooking, add the tomato ketchup sauce and turn the pork steaks to coat in the sauce. Cook until the steaks are sticky and cooked through to your liking.
Mix the oil and paprika together in a small bowl in the microwave. When the corn is tender, drain and brush with the paprika butter. Serve with the pork steaks on the side.
Recipe serves: 4. Calories per serving: 320.
Paprika Pork Stroganoff
This twist on a pork stroganoff is simple to make and much healthier than you'd expect. Serve over rice or noodles.
Ingredients
400g pork fillet, trimmed of fat, diced
2 onions
250g chestnut mushrooms
200ml chicken stock
100ml low fat sour cream
1 ½ tbsp. sweet paprika
1 tbsp. tomato puree
1 tbsp. olive oil
Salt and pepper
Spring onions
Directions
Thickly slice the onions and thinly slice the mushrooms. Heat the oil in a large saucepan. Add the onions, stir and cook for 8-10 minutes until golden and soft. Add the pork and mushrooms to the pan, turn up the heat and cook for 3-4 minutes until browned.
Add the paprika, stir and cook for 1 minute. Add the tomato puree, stir and cook for 1 minute more. Pour in the stock and simmer for 5-8 minutes, until the pork is tender and cooked through.
To serve, stir the sour cream into the pork and season with salt and pepper to taste. Finely chop spring onions and sprinkle on top
Recipe serves: 4. Calories per serving: 257.
Mustard Pork
A speedy pork dish with plenty of bite, this dinner will be on the table in less than 20 minutes.
Ingredients
300g pork tenderloin fillet, trimmed of fat, sliced
200g spinach leaves
5 large mushrooms
100ml chicken stock
2 tbsp. half fat crème fraiche
½ tbsp. grainy mustard
Juice of half a lemon
Small bunch freshly chopped parsley
Salt and pepper
1 tsp. oil
Directions
Heat the oil in a frying pan. Brown the pork slices on all sides and then tip from the pan. Add the mustard and chicken stock and whisk well to combine.
Bring the liquid to a simmer, then whisk in the crème fraiche. Add the pork back to the pan and simmer for 4-5 minutes until cooked through. Season well and to serve, stir in the lemon juice and parsley.
Meanwhile, wilt the spinach and mushroom in a frying pan. Divide between 4 plates and top with the pork and sauce.
Recipe serves: 4. Calories per serving: 243.
---
Fruity Pork Meatballs
Ingredients
300g lean pork mince
1 tsp dried mixed herbs
1 egg, beaten
1 cup salt reduced vegetable stock
2 red apples, cored and sliced
2 large brown onions, thinly sliced
2 tbsp olive oil
1 tbsp balsamic vinegar
Directions
In a large bowl, combine mince, herbs and the beaten egg.
Using wet hands, form the mixture into meatballs about the size of a large walnut (this much mince should make around 16 small balls).
Set aside to firm up in the fridge.
While meatballs are firming, heat the olive oil over a low heat in a small frypan.
When warm, add the onions and allow to soften slowly and gently, being careful not to burn them.
Once onions start to turn a golden colour, add balsamic vinegar and stir to ensure onions are fully coated.
Simmer for about 15 minutes then remove from heat.
Remove the meatballs from the fridge and place in a large frypan over a medium/high heat.
Once browned, add the caramelised onions, stock and apple slices.
Bring to the boil and simmer for about 15 minutes until sauce has thickened.
Serve with spaghetti, cous cous or a salad.
Makes 4 servings – Cal per serve 235