Lamb Meatballs With Mint Yoghurt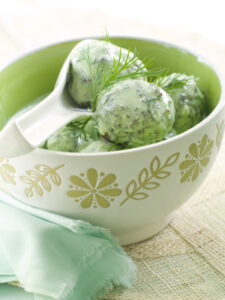 For the meatballs:
400g lean minced lamb
1 small onion, peeled and finely diced
4 tbsp sultanas
1 tsp cumin
1 tsp ground coriander
½ tsp cinnamon
Salt and pepper
For the sauce:
½ cup mint
½ cup dill, parsley or coriander
½ cup Greek yoghurt
1 tsp minced garlic
Juice and zest of ½ a lime
Salt and pepper
Preheat oven to 180C and line 2 baking trays with baking paper. Place wire racks on top so that any fat can drain away. Make the meatballs by placing all of the meatball ingredients into a bowl and mix with a wooden spoon. Wet your hands and then shape the mixture into 20 meatballs and place on the lined trays. Cook in the oven for 20 minutes, turning once, until cooked through. To make the sauce for the meatballs, mix all of the ingredients in a food processor. Pour the sauce over the cooked meatballs to serve.
Serves: 4. Calories per serve: 175.
Slow Cooked Beef with Peanuts and Sweet Potato
800g braising steak (such as chuck or blade), trimmed of excess fat, cut into  chunks
2 tbsp olive oil
2 large onions, peeled and diced
2 garlic cloves, peeled and diced
1 tsp paprika
1 tsp cinnamon
1 medium sized sweet potato, peeled and cut into chunks
1 ½ cups of beef stock
1 bay leaf
2 tbsp (100% peanut) peanut butter
3 tbsp sultanas
¼ cup brown rice
Juice of ½ a lemon
Fresh parsley leaves
Place the slow cooker onto 'high'. Heat 1 tbsp of oil in a pan over med/high heat. Brown the steak, then place it into the slow cooker with any juices. Heat the other 1 tbsp oil and cook the onions for 10 minutes, until softened. Add your garlic, cinnamon and paprika to the pan and stir fry for one minute. Place the sweet potato into the pan and stir until coated with the onion and spices. Transfer everything into the slow cooker. Pour the stock as well as the bay leaf to the slow cooker, reduce the heat to low and cook for 4 hours. Put the slow cooker back to the high setting, and stir in the natural peanut butter. Add the sultanas and brown rice into the pot and stir again. Cook for 45 minutes. Squeeze in the lemon juice and serve with fresh parsley leaves on top.
Serves: 6. Calories per serve: 345.
Rosemary and Garlic Crusted Lamb Cutlets

8 lamb cutlets, trimmed
3 sprigs fresh rosemary, chopped
2 cloves garlic, minced
Salt and pepper, to taste
1 tbsp olive oil + olive oil spray
Season the lamb with salt and pepper on both sides. Combine the rosemary, garlic, and oil and then rub over the cutlets. Cover with plastic wrap and place in the fridge for half an hour. Heat the BBQ or  pan to med/high and spray with olive oil. Cook the lamb on both sides until cooked to your liking.
Serves: 4. Calories per serve: 190.
3 Ingredient Leg Of Lamb
1.5kg leg of lamb
1 bunch of rosemary
2 tbsp olive oil
Heat the oven to 200C. Scatter the rosemary on the bottom of a roasting tin. Place the lamb on top and rub with the olive oil then add salt and pepper. Cook for 30 minutes and then baste the lamb in the pan juices. Cook for another 40 minutes, or until the lamb is cooked to your liking. Remove from oven and cover with foil to rest for 10 minutes before carving.
Serves: 6. Calories per serve: 350
Metabolism boosting low fat chilli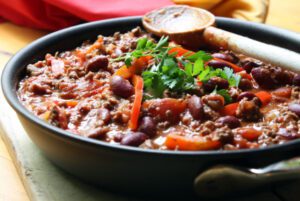 • 500 grams of turkey or lean beef mince
• Half a bulb of garlic
• 1 large red onion
• 2 red chilli's
• 1 large bunch of parsley
• 1 tsp of cumin powder
• 1 red pepper
• 1 green pepper
• 10 large fresh tomatoes or 3 tinned tomatoes
• 2 tins of kidney beans
• 2 large mushrooms
In a pan/wok lightly cook the garlic, onion, cumin, chilli.  Then add the mince, the tomatoes, the green and red pepper and the mushrooms.  Cook until the mixture has
developed into a rich sauce – then add the kidney beans and the parsley and serve on brown rice.
Calories per serve – 520
---
Lamb stir-fry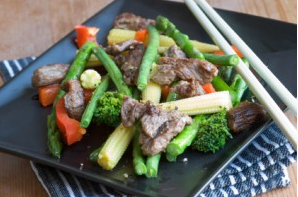 Ingredients
• 2 – 3 lamb steaks cut into strips
• 1 x onion
• 4 cloves of garlic
• Bunch of spring onions sliced into 3 cm (approx) strips and strips of carrots
• 1 x tablespoon or crushed ginger
• 1 x chopped up red chilli (incl seeds)
• Bunch of broccolini and handful of green beans
• 2 x fresh lime and handful of mini sweet corns
• Sea salt – 2 pinches
• Sesame seed oil brown rice or rice noodles
Brown the onion and garlic in a wok then on a high heat add all other ingredients and stir quickly.  Add the lime juice at the end of cooking and season at the end with some extra
spring onions, sea salt and cracked pepper
Calories per serve – 520
---
Garlic & Rosemary Steak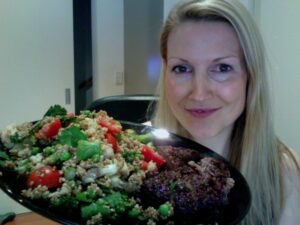 Ingredients
1 x lean cut of steak per person
2 x sprigs of fresh rosemary (you can use dried too)
3 x crushed garlic cloves
Sea salt and cracked black pepper
3 x tbsp Olive oil
For the veggie & cous cous salad
1/2 cup of cous cous (to cook, pour on 1 x cup of boiling water and cover. Leave for 2 minutes and it is done!)
Half a brocolli
Half a cauliflower
1 x cup frozen peas
1 x sliced green/red/yellow capsicum
1/2 bunch of chopped corriander
1/2 punnet of cherry tomatoes (or use normal ones)
Dressing – 2 x tbsp of olive oil, 6 x tbsp of balsamic vinegar, sea salt and black pepper
1 x lightly cooked red onion – chopped into slices
Marinade the steak by mixing the garlic, rosemary, salt, pepper and olive oil then grill or oven cook to how you like it cooked
For the salad, lightly cook the veggies then add to a big bowl with the cous cous, tomatoes, corriander, onion and season with the dressing – add more vinegar dressing if you need to.
Then serve – DELISH!
Serves 2-3. Calories per serve 618
---
Thai marinated chicken
2 x chicken breasts or 4 chicken wings
4 cloves or garlic
1 x red onion
1 tsp of lemon grass paste
1 red chilli finely chopped
Drizzle of sesame seed oil
1 tsp of crushed ginger or ginger paste
1 cup of basmati rice
1 x lime
Directions
Mix together all the marinade ingredients so it becomes a paste – a blender is great for this. Spread the marinade over the chicken getting under the skin and making sure all the meat is covered
Then cook the chicken in the oven for approximately 40 minutes on a high heat. Then serve with the basmati rice, a large salad and squeeze the juice of the lime over the chicken when ready to serve.
Serves 2. Calories per serve 470
---
Balsamic Pork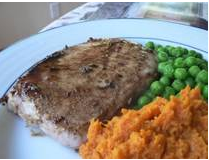 Pork loin steaks are lean, so they cook nice and quickly. These juicy balsamic pork chops are ready in a snap. Enjoy with some mashed sweet potatoes and green peas for a colorful, nutritious plate.
Ingredients:
4 5-ounce boneless pork loin chops or lean pork steaks, trimmed of fat
1/3 cup wholemeal flour
Pinch sea salt
2-3 twists cracked black pepper
1 clove garlic minced
2 tsp olive oil
1/3 cup balsamic vinegar
1/2 cup fat free, low sodium chicken broth
Preparation:
Dredge each pork chop in flour mixture.
Heat oil on medium heat in 12 inch skillet . Add garlic and cook gently for 1 minute. Add pork chops and cook for 4 minutes each side. Remove and place on a plate, then cover loosely with foil.
Add balsamic vinegar and broth to skillet, stir to deglaze the pan. When liquid has reduced by half, return pork chops to the pan. Cook for 3-4 more minutes, turning once.
Calories per serve – 311
---
Lamb Shepherds Pie
Shepherds Pie is one of my ultimate comfort foods but it isn't a food that instantly springs to mind when you are on a weight loss or healthy eating plan or when you are trying to lose your baby weight.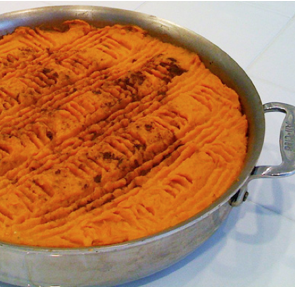 However, it is possible to make a very tasty, satisfying and low fat shepherds pie without all the calories
Ingredients
1 pack of lean lamb diced
3 large sweet potatos
1 celery stick
2 large carrots
2 tbsp of tomato paste
4 cloves of garlic
1/2 tsp of thyme
1 large red onion
1 pint of chicken stock
In a large pan lightly cook the onion, lamb, thyme, garlic, tomato paste, celery and carrots stick then add in the chicken stock.
In a separate pain boil the sweet potato for 15 minutes then when cooked mash the sweet potato up – add in some sea salt and black pepper to taste.
Then in a oven dish add all the ingredients from the pan and top with the mash potato (spread out and use a fork to put a pattern in it) then cook in the oven for 30 minutes on 180 degrees
Serve with lots of fresh vegetables or a big salad.
Calories per serve – 390
---
Steak Strips & Noodles with Lime & Ginger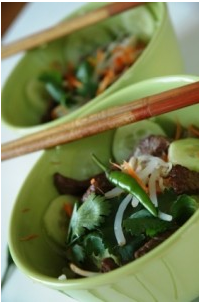 Ingredients
Lean steak or beef strips
Mini bowl of cracked pepper
Mini bowl of sea salt
6 fresh limes
Rice or egg noodles
Fresh red chilli or chilli paste
Fresh ground ginger or ginger paste
Finely chopped spring onions
Finely chopped corriander
Oyster sauce
Finely sliced cucumber
Sesame seed oil
Bok Choy – as much as you can eat
Directions
Soak the steak strips in the juices of 2 limes and sprinkle with salt and pepper – let marinade for 2-3 hours
Into a very small/mini bowl place the cracked black pepper and sea salt so that it becomes a dipping mixture – then squeeze in the juice of 3 limes, stir and place on dining table
In bowl mix the chilli paste, ginger paste and a few tablespoons of Oyster sauce.
Boil the noodles according to the packet instructions.
Heat a pan/wok until it is very hot and cook the steak for a couple of minutes – or until how you like it cooked and place on a plate to stand for a few minutes – then onto dining table
Place the Bok choys into boiling water, then turn off the heat, cover and let steam for 2-3 minutes – then place in a serving plate on the table
When the noodles are cooked mix in the chilli, ginger and Oyster sauce along with 3 tablespoons of sesame seed oil, the coriander and the spring onions and place in a serving bowl on the dining table.
Add quartered lime and cucumber slices for decoration and enjoy!  The steak strips are meant to be dipped into the salt, pepper and lime bowl – delicious.
Calories per serve – 520
---
Stuffed Peppers
4 large red peppers
2 cups of cous cous
Spinach leaves
1 large onion
1 x red chilli
Half a bulb of garlic
A bunch of kale
4 large mushrooms
Green beans
Ricotta cheese
Fresh parsley
2 small pieces of organic lamb
A couple of sprigs of rosemary
Finely chop or use a blender on the onion, garlic, rosemary, spinach, mushrooms, kale and parsley and in a pan lightly cooked with the lamb (finely chop or shred the lamb).
Then add in the cous cous (this only take 2-3 minutes to cook and you need to pour some boiling water over it, cover it and let it sit then it is done) and mix it all up together with the ricotta cheese.
Then chop the tops off the peppers and clean out the seeds then fill the peppers up with your mixture, add the pepper tops back on then bake in the over for approximately 35 minutes at 180 degrees.
To serve – lightly steam the green beans to serve along side the peppers – and I usually add some more melted goat's cheese to drizzle on top of the peppers.
Calories per serve – 560
---
Mexican Style Lasanga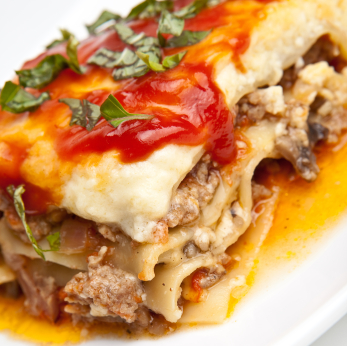 Ingredients
– 400g premium beef mince
– 410g can of salt reduced red kidney beans, drained and rinsed well.
– 2 medium carrots, grated.
– 2 medium onion, finely diced
– 1 red capsicum, finely chopped
– 400g can salt reduced diced tomatoes
– 35g sachet salt reduced taco seasoning
– 5 x wholegrain wraps/tortillas
– 1/2 cup Weight Watchers sour cream
– 1/2 cup Bega So Extra Light 50% reduced fat cheddar cheese, grated.
Method
Preheat oven to 180deg.
Heat a non-stick frying pan over medium-high heat. Saute onion for a couple of minutes, then add 1tbs water (this takes away the need for any added oil) and cook until softened and translucent and water has evaporated.
increase heat to high and add mince, cook stirring until there are no more lumps and mince is brown. Add grated carrot, chopped capsicum, red kidney beans, diced tomatos and taco seasoning, simmer for 10-15 mintues until mixture is thickened.
Spray a dish with cooking spray lightly (springform cheesecake pans are the perfect size for this!) and layer with 2 x tortilla/wrap, half meat mixture, 1 x tortilla/wrap, remaining meat mixture, 2 x tortilla/wrap, the sour cream and sprinkle the cheese over top.
Cook for 30-40 mintues, or until golden brown.
This dish is great for guests, for my partner i serve with extra sour cream and a simple guacamole of avocado mashed up with lemon/lime juice and salt and pepper. It is very flavourful and doesnt need any extra sour cream which is great!
I serve with a salad of iceburg lettuce, diced tomato, diced red onion, diced red and yellow capsicum, grated carrot and cucumber.
Tastes even better the next day so can be prepared ahead of time and freezes well.
Calories per serve – 575
---
Mini Turkey Mince Patties in Pita Pockets
250 g fresh turkey mince
4 spring onions, thinly sliced
1 tsp ground coriander
1 tsp ground cumin
1 pinch ground cayenne pepper
1 tbs fresh coriander leaves, finely chopped
1 tbs olive oil
2 tsp lemon juice
4 wholemeal pita pockets
Mixed lettuce leaves for 4 pita pockets
2 tomatoes, finely dice
Sliced cucumber
1/2 cup thick Greek-style natural yoghurt
1/4 cup fresh mint, finely chopped
1/4 cup fresh coriander leaves, finely chopped
1 pinch cracked black pepper, to taste
Directions:
Preheat oven to 150°C.
Combine turkey mince, spring onions, coriander, cumin, cayenne pepper, fresh coriander and lemon juice in a large bowl. Form tablespoonfuls of mixture into patties.
Heat 2 teaspoons of oil in a non-stick frying pan over medium heat. Add half of patties and cook for 3 minutes on each side or until golden and cooked through. Alternatively, cook patties in a non-stick grill.
Transfer cooked patties onto an oven tray lined with non-stick paper and place in the oven to keep warm.
Add remaining oil to the frying pan and cook remaining patties. Cut each pita bread in half and split open. Fill pockets with lettuce leaves and tomatoes. Place 2 patties in each pocket and serve with a spoonful of yoghurt and herb dressing.
To make yoghurt and herb dressing: Combine yoghurt, mint and coriander in a bowl. Season with pepper. You can also add some crushed garlic aswell. If you like.
Great recipe for the whole family.
Calories per serve – 280
---
Herb-Crusted Beef with a Lemon & Thyme Béarnaise Sauce
This is a fantastic method of making a béarnaise sauce – normally, you'd have to use a double boiler, but using your blender really makes the whole process much simpler.
Ingredients:
For the beef:
1.5kg beef fillet
3 tbsp. olive oil
3 tsp. dried thyme
3 tsp. black peppercorns
2 tsp. fennel seeds
2 tsp. rock salt
2 bay leaves
4 large onions
For the béarnaise:
150g low fat butter, chopped into cubes
4 egg yolks
3 tbsp. white wine vinegar
4 tbsp. lemon juice
2 tbsp. finely chopped shallots
2 tbsp. finely chopped thyme leaves
Black peppercorn to taste
Salt and pepper
Method of Preparation:
Preheat the oven to 220C (200C fan).
Put the grain mill onto the KitchenAid stand mixer. Add the dried thyme, black peppercorns, fennel seeds, rock salt and bay leaves and process until finely chopped. Add 2 tbsp. olive oil and stir well, then rub the mixture all over the beef fillet.
Heat the remaining oil in a heavy-bottomed frying pan and fry the meat on all sides until browned.
Whilst the meat is browning, chop the onions into thick slices and arrange in the bottom of a roasting tin. Put the beef fillet on top of the onions, then put into the oven and cook for 30 minutes or until the meat is cooked to your liking.
Wrap the meat in foil and leave to stand for ten minutes before serving. Meanwhile, make the béarnaise.
Put the vinegar, 2 tbsp. lemon juice, shallots, thyme and a few black peppercorns into a small saucepan. Bring the mixture to the boil and then reduce to a simmer. The overall liquid in the pan needs to reduce to about 2 tbsp., so by half. This will take around 5-10 minutes.
Once the liquid has reduced, set aside to cool and then pass through a sieve, reserving the liquid.
Put the egg yolks into the jar of the KitchenAid Artisan blender along with the vinegar and herb reduction. Process on the 'whisk' setting until combined, around 5-10 seconds.
Meanwhile, heat the butter in a small saucepan until melted and foaming, swirling the pan from time to time so that it doesn't stick to the pan.
Put the blender back onto the 'whisk' setting, and whilst still running, pour the hot melted butter into the blender in a thin, steady stream. When the sauce begins to thicken, add the butter more quickly. Add up to another 2 tbsp. of lemon juice if needed after you've added all the butter to thin the sauce and to reach the desired consistency. Season with salt and pepper to taste.
Calories per serve – 519
---
Lime and macadamia glazed ham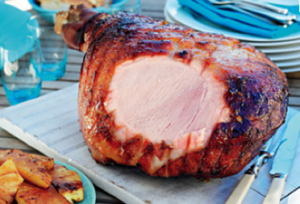 Ingredients (serves 12)
7 to 8kg leg of lean ham
350g jar ginger, lemon and lime marmalade
1/8 cup honey
2 tablespoons Dijon mustard
2 tablespoons sweet chilli sauce
1 cup macadamia nuts, chopped
Method
Position oven shelf in lowest shelf position of oven. Preheat oven to 150°C.
Line a roasting pan (large enough to comfortably hold ham) with 2 sheets of baking paper. Remove rind from ham. Use a sharp knife to score ham fat in a diamond pattern. Make sure you cut no deeper than 5mm. Place ham into roasting pan. Combine remaining ingredients in a bowl. Spoon half the mixture over surface of ham. Cook for 45 minutes. Remove from oven. Carefully spoon over remaining glaze. Cook a further 45 minutes, or until golden. Slice. Serve hot, cold, or at room temperature.
Calories per serve – 340
---
Healthy roast sweet potato shepard's pie
Try this twist on tradition for a yummy shepard's pie.
Ingredients
500g extra trim beef mince
1 small onion, finely diced
1 carrot, peeled and finely diced
1 stick of celery, finely diced
2 cups salt reduced beef stock
3/4 cup mushrooms, diced
1 clove of garlic, crushed
2 tbsp salt reduced tomato paste
2 tbsp olive oil
1 tbsp worcestershire sauce
2 medium sized sweet potatoes, cut in half longways
1 tsp cinnamon
Directions
Preheat oven to 170C
Line a baking tray with baking paper and place sweet potato halves on tray.
Drizzle with 1 tbsp olive oil, sprinkle with cinnamon and place in the oven for 50 min.
When there's about 20 minutes to go on the oven timer, heat remaining olive oil in a large saucepan over a medium/high heat.
Add garlic and onion to the pan and fry, stirring constantly, until the onion is transparent.
Add carrot, celery and mushrooms to the pan and continue to stir mixture until vegetables have softened.
Add mince to the pan and break up with a wooden spoon to remove any lumps. Cook, stirring regularly, until mince has changed colour and is cooked through.
Pour beef stock, worcestershire sauce and tomato paste into the pan and bring the mixture to the boil. Reduce to medium/low heat and allow to simmer and thicken for 10-15 minutes.
While beef mixture is simmering, remove sweet potato from the oven (when cooked through and soft) and allow to cool slightly.
Being careful not to burn yourself, scoop sweet potato flesh out of each half using a large spoon and place in a mixing bowl. Discard the skin.
Using a fork (or potato masher) mash the sweet potato flesh until smooth.
Pour beef mixture into a large baking dish and top with mashed sweet potato.
Place in still hot oven for 15min to turn sweet potato golden and thicken the meat mixture further, then serve.
Serves 4 – Calories – 365 per serve
---
Greek Style Lamb Cutlets 
Ingredients
12 frenched lamb cutlets
3 tbsp Greek yoghurt
Juice and zest of one lemon
2 cloves garlic, crushed
4 springs of rosemary, roughly chopped
Pinch of sea salt flakes
Pinch of black pepper
1 tbsp olive oil
Directions
Combine yoghurt, lemon juice and zest, rosemary, sea salt and black pepper in a large bowl.
Add lamb and ensure all cutlets are well covered in marinade.
Cover with cling film and refrigerate for a minimum of 30 minutes.
When meat is finished marinating, add 1 tbsp olive oil to a large frypan.
Heat frypan over medium heat (or turn on grill/ensure BBQ is hot).
When frypan/grill plate/BBQ is hot, add lamb and cook for approx 4-5 minutes before turning.
Cook the other side for the same amount of time.
Remove from heat and set aside to rest.
Serve with a green salad or steamed veggies (we served ours with steamed corn, beans and peas)
Makes 4 servings – Cal per serve – 550
---
Home Made Lamb Curry
Ingredients
500g diced lamb
2 tbsp olive oil
2 onions, peeled and finely sliced
1 tbsp fresh ginger, finely chopped (or use ginger from a jar)
1 small red chilli, de-seeded and finely diced (optional)
1 tbsp lemon juice
2 tsp garam masala (find this in the spice aisle at the supermarket)
400g tin of tomatoes
2 tbsp tomato paste (use tomato sauce if you don't have paste)
1 cup of beef stock
Fresh coriander, to serve
Method
Heat the oil in a large frying pan and soften the onion for 2-3 minutes.
Add the lamb, garam masala, ginger and lemon.
When the lamb has browned, add the tin of tomatoes, tomato paste, chilli and stock.
Simmer uncovered for 90 minutes until the sauce has thickened up.
Serve with a sprinkling of fresh coriander and your favourite side dish such as brown rice or cous cous.
Serves: 4. Calories per serve: 305
---
Thai Beef And Mango Salad
Ingredients:
2 lean, medium sized sirloin steaks
1 mango, peeled and cubed
1 red onion, thinly sliced
1 avocado, sliced into chunks
1 bag mixed leaf salad
3 teaspoons of fish sauce
1 teaspoon sesame oil
Salt and pepper, to taste
Juice of 1 lime
Thumb size piece of fresh ginger, peeled and finely chopped
1 garlic clove, minced (or use 1 tsp from a jar)
1 small red chilli, finely chopped (to taste)
1 teaspoon of honey
Olive oil spray
Method:
Place the steak in a shallow bowl and pour over the fish sauce and sesame oil, then add some pepper to taste.
Heat a fry pan over medium to high heat and spray with the olive oil spray. Cook the steaks until done to your liking, cover, and then set aside to rest.
Divide the salad leaves onto four plates, top with the mango, red onion and avocado.
Make the dressing by combining the lime, ginger, garlic, chilli and honey.
Place the steaks onto a chopping board and carve thick slices. Add these to the tops of the salad.
Pour over the dressing and finish off with some extra salt and pepper, to taste.
Serves: 4. Calories per serve: 343
---
Spicy Lamb Meatball Curry
Ingredients:
500g lamb mince
1 tsp crushed garlic
1 large onion, finely sliced
1 tsp fresh red chilli, finely sliced
½ tsp pepper
1 tsp garam masala
1 egg
1 tsp olive oil
1 tsp cumin seeds
1 tsp finely chopped fresh ginger
1 x 400g can diced tomatoes
1 tsp tomato puree
½ tsp ground turmeric
½ cup water
2 cups of cooked rice, to serve
4 tbsp natural yoghurt, to serve
Coriander, to garnish
Method:
In a large bowl, mix the mince, garlic, half of the onion, pepper, garam masala and egg together.
Use wet hands to shape the mixture into 24 meatballs and set aside on a plate.
Heat up your grill on a high heat and line the bottom of the grill tray with foil.
Place the meatballs on the grill tray, allowing the fat to drip through to the foil.
Reduce the heat to medium and grill the meatballs for around 10-15 minutes, turning occasionally, until browned.
In a frying pan heat your olive oil over medium heat, and then add the cumin seeds, chilli (if using) and the remaining onion.
Cook for 5 minutes, and then stir in the ginger.
Add the tinned tomatoes, tomato purée and turmeric and cook for 10 minutes or until the sauce has thickened.
Place your cooked meatballs into the sauce, reduce the heat and simmer for 20 minutes, adding the water if you like it saucy.
Serve with rice and dollops of natural yoghurt. Garnish with coriander.
Serves: 6. Calories per serve: 339.
---
Spicy Lamb-Stuffed Tomatoes
Ingredients:
4 big tomatoes
1 tbsp olive oil
1 garlic clove, finely chopped
½ an onion, finely sliced
200g lamb mince
1 tbsp pine nuts
1 tbsp water
1 tbsp breadcrumbs
1 tsp chilli
1 tsp ground cumin
1 tsp ground coriander
½ tsp ground cinnamon
Fresh rosemary
Method:
Preheat your oven to 180C.
Cut the tops off the tomatoes, scoop out the centres, and set aside.
Heat the oil in a saucepan and add the onion, cooking for 3 minutes before adding the garlic and cooking for a further minute.
Add the lamb mince and cook until lightly browned.
Add the pine-nuts, reserved tomato centres, spices and breadcrumbs. Cook for a further minute until the mixture is well combined. Add the water to the mixture and stir again.
Place the tomatoes in shallow baking dish.
Spoon the lamb mixture into each tomato, ensuring that they're firmly stuffed. Add rosemary (if using).
Cover with foil and bake in the oven for around 30 minutes.
Serves: 4. Calories per serve: 235.
---
Ham, Spinach and Pesto Bake
Ingredients:
6 large eggs
1 cup milk
1 tbsp pesto
100g ham off the bone, diced
100g spinach, chopped
Salt and pepper, to season
½ cup grated cheddar cheese
Method:
Preheat your oven to 200C.
Crack the eggs into a baking dish and whisk lightly.
Add the milk and the pesto and whisk again to bring it all together.
Add your ham, spinach and season to taste before giving a final stir.
Top with the grated cheese.
Bake in the oven for around 25-30 minutes or until the top is golden.
Allow to cool for 5 minutes before slicing up to serve.
Serves: 6. Calories per serve: 188.

---
Steak with Mint, Coriander and Corn Salsa
Ingredients: 
2 trimmed sirloin steaks
Salt and pepper (to season)
1 tbsp olive oil
1 bunch of coriander and one of mint
1 cooked corn on the cob, with corn trimmed off (or use ½ a can of tinned corn)
1 clove of garlic
4 spring onions
1 red chilli, de-seeded
2 tomatoes, roughly chopped
2 limes, juiced
1 tbsp olive oil
Salt and pepper for seasoning
Method:
Take the steak out of the fridge and allow it to come to room temperature while you make the salsa.
Finely chop the garlic, herbs (leaves and stems), spring onions, chilli and tomatoes and place in a large bowl.
Add the corn and then squeeze over the lime juice, olive oil and season to taste.
Get a frying pan very hot so it's ready for your steak.
Rub each side of the steak with olive oil and season to taste with salt and pepper.
Pop the steak in the pan and cook until done to your liking. Set aside to rest for five minutes.
Use a very sharp knife to slice the steak up on an angle.
Arrange the steak over 4 plates and top with the salsa.
Serves: 4. Calories per serve: 250.
---
Teriyaki Marinated Lamb Cutlets
These mouthwateringly tender morsels of meat are perfect BBQ food. Serve with a green salad and/or steamed veggies for a complete meal.
Ingredients
6 x frenched lamb cutlets
4 tbsp. salt reduced teriyaki sauce
4 x tbsp. lemon or lime juice
2 x tblsp. Olive oil
1 x clove of garlic, crushed
3-4 springs of fresh rosemary
* Note, these measurements can be adjusted if preparing more lamb (or larger sized cutlets). Simply keep the ratio of ingredients the same i.e. If you increase the teriyaki sauce by 1 tbsp. make sure you also increase the olive oil and lemon juice.
Directions
Combine teriyaki sauce, lemon juice, olive oil and garlic in a small bowl.
Stir thoroughly to ensure all ingredients are well mixed.
Remove lamb from packaging and place in a shallow dish (a small casserole type dish is ideal).
Pour marinade over lamb, ensuring all cutlets are partially submerged in sauce.
Turn cutlets a couple of times to coat both sides.
Using clean scissors or a sharp knife, roughly cut or chop rosemary sprigs liberally over the marinating cutlets.
Cover dish with cling film and place in the fridge for between 15 minutes and two hours.
Heat a BBQ plate, grill or medium sized frypan over a medium/high heat. When hot, place cutlets onto surface and pour remaining marinade over the top.
Cook for 4-5 minutes (depending on the thickness of the cutlets) before turning and cooking other side for the same amount of time.
Remove cutlets from the heat and set aside on a clean plate. Cover with foil and allow to rest for a few minutes..
Serves 2 – Calories per serve – 660