Sweet & Sour Chicken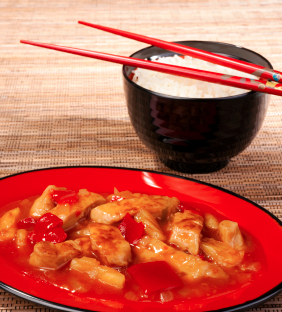 Chicken is an excellent source of protein and when it works well in a sweet and sour weight loss recipe
Ingredients
550g tin pineapple chunks in juice
400g lean chicken
1 red capsicum
1 green capsicum
3 tbsp. rice wine vinegar
2 tbsp. low sugar ketchup
2 tbsp. soy sauce
2 tbsp. oil
2 tbsp. minced ginger
1 tbsp. minced garlic
2 tsp. corn starch
Directions
Dice the chicken into chunks. Slice the peppers in half, remove the seeds and pith and thinly slice the flesh into strips.
Drain the pineapple. Reserve about 60ml of the juice and whisk with the vinegar, ketchup and soy sauce. Pour 3 tbsp. of the sauce over the chicken and leave to marinade for up to 30 minutes. Add the corn starch to the reserved sauce and whisk until smooth.
Heat half the oil in a large skillet or wok. Add the chicken and fry until golden brown, around 7-10 minutes. Tip from the pan and set to one side.
Heat the rest of the oil in the same skillet. Add the ginger and garlic and cook until fragrant, then add the capsicums and stir well. Cook for a couple of minutes until tender.
Add the sauce and cook until thickened, then add the cooked chicken and pineapple and cook until heated through. Serve immediately.
Recipe serves: 4. Calories: 355.
Chicken Satay with Peanut Sauce
Chicken satay is a wonderful dish – salty, sweet, tender and rich all at the same time.
Ingredients
450g chicken breasts, boned and skinned, all fat removed
3 tbsp. lime juice
2 tbsp. oil
1 tbsp. fish sauce
½ tsp. dried crushed red chilli flakes
2 tbsp. peanut butter
2 tbsp. low fat coconut milk
1 tbsp. lime juice
1 tbsp. soy sauce
½ tsp. dried crushed red chilli flakes
Directions
Thinly slice the chicken breasts. Whisk together 3 tbsp. lime juice, 3 tbsp. oil, 1 tbsp. soy sauce, 1 tbsp. fish sauce and ½ tsp. crushed red chilli flakes. Add the chicken, turn to coat, cover and leave in the fridge for half an hour to marinate.
Meanwhile, whisk the peanut butter, coconut milk, 1 tbsp. lime juice, 1 tbsp. soy sauce and ½ tsp. crushed red chilli flakes together in a small bowl and set to one side.
Griddle the chicken or fry in a heavy-bottomed frying pan for 3-4 minutes either side until cooked through. Serve with the peanut sauce.
Recipe serves: 4. Calories per serving: 286.
Asian Turkey Burgers
Serve these moist turkey burgers with soft wholemeal rolls, salad and a little sesame mayonnaise.
Ingredients
340g minced turkey
1 x 225g tin water chestnuts, drained
2 spring onions
2 garlic cloves
1 tbsp. minced ginger
2 tbsp. hoisin sauce
1 ½ tsp. sesame seed oil
Salt and pepper
2 slices wholemeal bread, slightly stale, processed in a food processor until they form breadcrumbs
Directions
Thinly slice the water chestnuts and the spring onions. Mince the garlic cloves. In a large bowl, combine minced turkey, water chestnuts, spring onions, garlic cloves, minced ginger, hoisin sauce, sesame seed oil, salt and pepper to taste and breadcrumbs.
Form the mixture into patties with your hands. Fry in cooking spray or oil for 4-5 minutes on either side until browned and cooked through. Alternatively, cook on the BBQ.
Recipe serves: 4. Calories per serving: 207.
Prawn Broth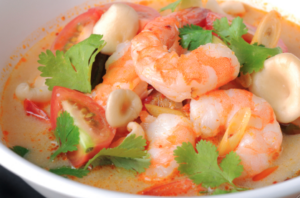 This incredibly light broth makes for a great lunch or dinner with some bread rolls to soak up the lovely flavours.
Ingredients
500ml chicken stock
1 thumb-sized piece root ginger, peeled
200g mixed vegetables (mange tout, baby sweetcorn, baby carrots, sugar snap peas etc.)
12 large prawns, peeled and deveined
2 quartered tomatoes
Small handful mint leaves, torn
Small handful coriander leaves, torn
1 tbsp. rice wine
2 garlic cloves
Soy sauce to taste
Directions
Thinly slice the ginger and garlic. Put the stock, ginger, garlic and rice wine into a saucepan. Bring to a simmer and add the vegetables. Simmer until the vegetables are just tender.
Add the prawns and simmer until the prawns are pink and opaque. Divide between two bowls. Sprinkle with the mint and coriander and season with soy sauce to taste.
Recipe serves: 2. Calories per serving: 126.
Soy and Orange Marinated Pork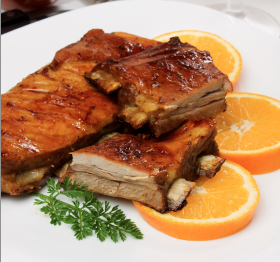 This sticky pork can be served with rice, potatoes or just a large salad. The flavours are best if you leave the pork to marinate overnight.
Ingredients
500g pork fillets
Zest and juice of one orange
4 tbsp. soy sauce
1 tbsp. runny honey
1 thumb-sized piece root ginger, peeled
Directions
Mince the ginger. Combine the ginger with the honey, soy sauce, orange zest and orange juice in a bowl. Add the pork and turn to coat. Cover with cling wrap and leave to marinate overnight.
Take the pork out of the marinade and brown on all sides in a hot, dry frying pan. Put into a baking tin and roast in an 180C oven for 20 minutes or until cooked through. Baste with the marinade every 5 minutes and then leave to rest under foil for 5 minutes before slicing and serving.
Recipe serves: 4. Calories per serving: 165.
Chicken and Lemongrass Potsticker Dumplings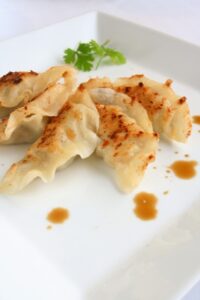 Ingredients: for the dumplings
250g chicken mince
4 garlic cloves, peeled and finely diced
Thumb size piece of ginger, peeled and finely chopped
2 stalks of lemongrass
2 shallots
1 tsp sesame oil
2 tsp soy sauce
2 tsp hot chilli sauce
A pinch of salt
24 round gow gee / gyoza wrappers
1 tbsp olive oil
½ cup water 
Ingredients: for the sauce
1 tbsp fresh ginger
1 finely chopped shallot
1 tbsp soy sauce
1 tsp sesame oil
1 tsp fish sauce
1 tbsp water
A squeeze of fresh lemon juice.
Method:
Finely mince the garlic, ginger, lemongrass and shallots and place into a bowl.
Add the chicken mince, sesame oil, soy sauce, salt and chilli and mix well.
Lay out your gow gee wrappers and place half a tablespoon of the mixture in the centre of each.
One at a time, wet your finger and moisten the outer edge of one wrapper with water.
Take the left and right side of the wrapper and bring them together at the top in the centre.
Ensure there is no air in the dumpling and pinch the edges to form a seal all around.
Repeat with the rest of the wrappers.
Steamed dumplings: you can now choose to steam the dumplings over a pan of simmering water in a steamer for around 20 minutes.
Potsticker fried dumplings: or you can choose to cook them in a frying pan so that the bottoms get crispy. Heat 1 tablespoon of oil in a large pan. Add the dumplings, ensuring there is a little space in between. You may need to do this in batches depending on the size of your pan.
Fry the dumplings for around 3-4 minutes, or until the bottoms look golden.
Pour in the half cup of water and place the lid on. Let the dumplings steam for 12 minutes.
Remove the lid and continue to cook until the water evaporates.
Serve with a dipping sauce made by combining all of the ingredients in a small bowl.
Enjoy!
Makes: 24. Serves: 4-6 depending on hunger levels. Calories per dumpling, including sauce: 57.
Curry Flavoured Noodles
Ingredients:
200g Singapore Noodles
1 tbsp olive oil
1 garlic clove, peeled and finely diced
1 red capsicum, chopped into strips
1 tbsp curry powder
½ cup vegetable stock
1 tbsp soy sauce
3 spring onions
1 red chilli, finely sliced
Method:
Cook the noodles according to the packet directions; drain and then set aside.
Heat the oil in a large frying pan over med-high heat.
Add the garlic and capsicum and stir fry for 3 minutes.
Add your curry powder and continue to stir fry for another 2 minutes.
Pour in the stock and soy sauce and bring to the boil.
Add the spring onions and keep stirring for another 2 minutes until it all comes together.
Sprinkle the chilli (if using) over the top before serving.
Serves: 4. Calories per serve: 160.
 For more weight loss recipes click here or see our 28 Day Diet & Exercise Plan