During the cooler winter months, cravings for warming, filling desserts and treats rise, making it difficult to lose pregnancy weight.
Luckily, there are plenty of ways to fulfill this need without ruining your healthy eating plan.
This recipe for Raspberry & Pistachio Rice Pudding is a delicious, low-calorie dessert or afternoon snack option that is packed with vitamins and minerals thanks to the raspberries and pistachios.
Mix the recipe up by interchanging different fruits and nuts for the topping – walnuts, almonds, macadamias, prunes, sliced banana and shredded coconut are all great options.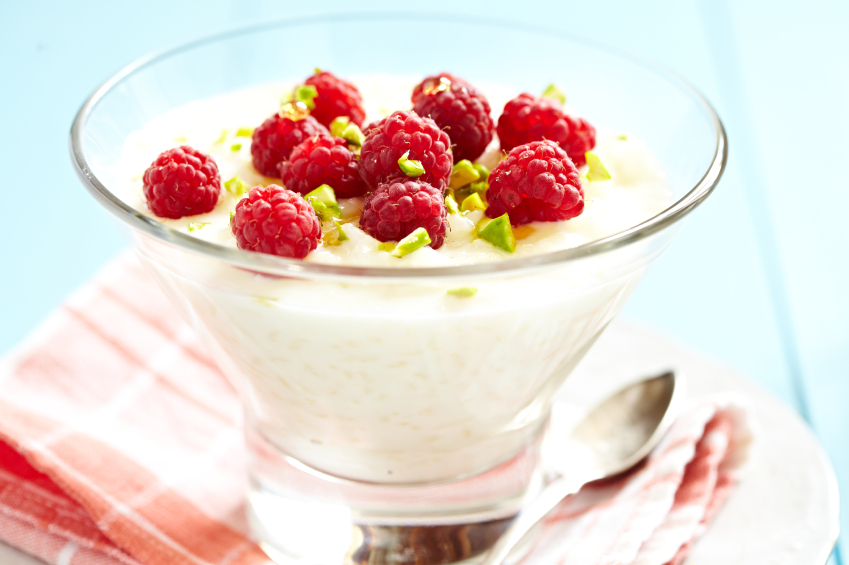 Ingredients:
1 cup of Arborio rice
4 cups of reduced fat milk
1 tablespoon of honey
1-2 drops of vanilla essence
1 small punnet of fresh raspberries
4 teaspoons crushed, raw pistachios
Optional Extras:
Replace the raspberries with blueberries, chopped banana or kiwifruit
Substitute the pistachios with chopped walnuts or almonds
Use unsweetened almond milk instead of dairy milk
Sprinkle a little cinnamon on top
Method:
Put the milk, vanilla essence and honey into a large saucepan and bring to the boil.
Add the rice and simmer, stirring frequently on low heat for 20-30 minutes until the rice is cooked.
Add more milk if the liquid evaporates and the pudding mixture becomes too dry.
Once the rice is cooked (tender to touch), remove the saucepan from heat and let stand for 10 minutes.
Serve warm in dessert glasses or small bowls, with raspberries and crushed pistachios on top.
Serves: 4. Calories per serve: 313
GET YOUR 10% DISCOUNT
If you are ready to lose weight then the Lose Baby Weight plans offer a healthy and safe exercise and diet routine and you can get a 10% discount by using code LOYALTY at the checkout
PLUS our BEST SELLING 28 Day Diet & Exercise Plan is available as a 200pg Printed Book and you can get your copy here 
Plus our NEW CALORIE BIBLE is now available – get your copy today! Only $19.95 and a must have in your handbag!
Click HERE to see our shop