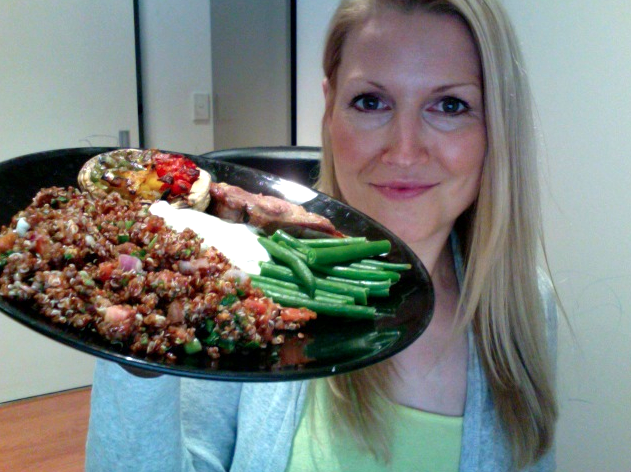 Having a healthy dinner that can help your pregnancy weight loss doesn't mean it has be boring and bland.
Infact, with a bit of imagination and planning you can make tasty healthy eating meals that the whole family will enjoy.
Today we made this yummy and taste filled meal that was interesting, had lots of flavours and was easy to make – plus hubby and toddler liked it.
Ingredients for Quinoa salad
1 x cup of quinoa (we used red quinoa but you can use white or black)
1 x chopped/diced red onion
1 x cup chopped cucumber
1/2 cup chopped spring onion
Handful of chopped mint
Cup of chopped tomato
Cook the quinoa (as you would rice) for approximately 15 minutes then drain and in a large bowl add in all your chopped ingredients and dress with 4 x tbsp of vinegar (use cider vinegar or white wine vinegar or balsamic vinegar) and 2 x tbsp of olive oil. Season with salt and pepper
For the stuffed mushrooms
1 x large mushroom per person (may need 2 for each man in the house!)
1/2 red and 1/2 yellow capsicum finely chopped
Sprinkle of low fat cheese
1/4 finely chopped onion
These are so easy to make. All you do is fill the mushrooms with the capsicums and onion then sprinkle with the cheese and cook in a hot oven for 10 minutes.
Recipe for Tzatzki
4 x tbsp. of greek yoghurt
Handful of  freshly chopped mint
1 x crushed clove of garlic
Cupful of chopped cucumber
Juice from half a lime
Mix all together in a bowl and it is ready to go! You can use lemon juice if you don't have lime – I just love it with lime juice. Then serve on the plate as a dip for your meal.
Then serve everything on a plate with some veggies and 1 x lamb chop (or you could choose any protein)- I have used green beans but any veggie will be fine. Enjoy!
And don't forget to check out our current promotions and discounts page to see what specials we have on this week on our Healthy Mummy product range