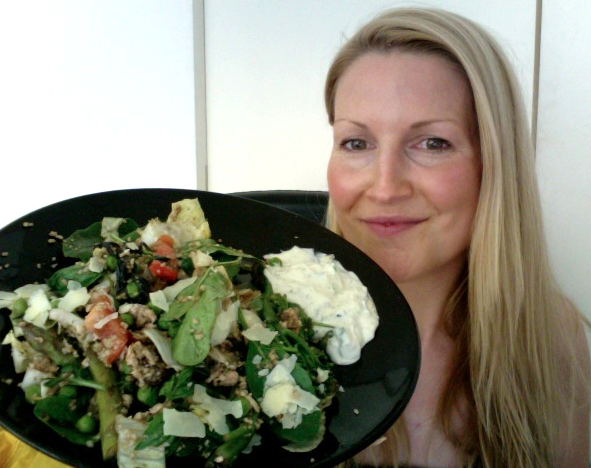 As the weather starts to heat up we start looking for lighter and healthier foods to make.  And healthy eating salads that are good to help you lose pregnancy weight are a top favourite.
It is common to think 'oh I am having a salad so it must be healthy' and then loading it up with creamy sauces and really oily dressings which don't make it so good on the calorie front if you are trying to lose pregnancy weight.
Salads are often thought to be not very filling and more of a side dish, but if you use the right ingredients and experiment with healthy eating salad recipes then you can easily make delicious, filling and healthy salads that are great for you and your family – plus are great for the lunch box!
Below is one I made today and it was quick easy, tasty and filling.
Quinoa and chicken summer salad with tzatziki
Ingredients
½ a cup of uncooked Quinoa
Half a chopped up and raw red cabbage
½ an iceberg lettuce shredded
½ a bunch of fresh coriander
2 x bowlfuls of fresh spinach
1 x cup of frozen peas
1 x bunch of Asparagus
½ a red capsicum
2 x tbsp. of olive oil
5 x tbsp. of balsamic vinegar
1 x clove crushed garlic
1 x tsp of wholegrain mustard
1 x red onion
Small handful of shaved parmesan
½ a tin of lentils
1 cooked chicken breast cut into small pieces – or shredded
Small handful of spring onions
Directions
Cook the Quinoa for approximately 10-15 minutes then set aside to cool. If you don't have Quinoa use brown rice or cous cous
Cook the Asparagus and peas for 5 minutes and allow to cool
Lightly fry the onions then add into a large salad bowl.
Then start to include all the other ingredients. Add in the lettuce, cabbage, spinach, capsicum, coriander, lentils, cooked chicken, spring onions, asparagus, peas, onion and Quinoa and stir well.
Then add in the salad dressing made with the olive oil, vinegar, garlic, mustard and a little bit of sea salt and black pepper.
Finally sprinkle over the shaved parmesan and serve with a dollop of your home made tzatziki
Home made tzatziki recipe
4 x tbsp. of greek yoghurt
Handful of  freshly chopped mint
1 x crushed clove of garlic
Cupful of chopped cucumber
Juice from half a lime
Mix all together in a bowl and it is ready to go! You can use lemon juice if you don't have lime – I just love it with lime juice.
Serves 3. Calories per serve 420
A really tasty, healthy and relatively easy meal to make that will have your taste buds doing a happy dance!
And don't forget to check out our current promotions and discounts page to see what specials we have on this week on our Healthy Mummy product range