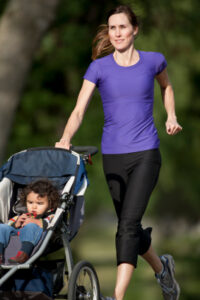 We all know how important exercise is when it comes to weight loss and staying fit and healthy.
Incorporating regular exercise into your day has a whole range of benefits above and beyond weight loss and gentle exercise is a great way for new mums to ease back into physical activity after the birth of their bub.
Whether you walk, run, swim or stretch, if you're elevating your heart rate, there's a good chance it's going to show on your face. If you're anything like me (a fair skinned lass) a decent workout will render you a very similar colour to a beetroot with sweaty hair to match.
8 easy ways to freshen up sans shower
Fragrance free facial wipes or unscented baby wipes are a great way to freshen up your face without the need for getting wet. Steer clear of anything fragrances as they tend to be harsh on already flushed and fragile skin. A few swipes with a wipe will remove all traces of your workout and leave skin clean and soft.
A gentle facial spray is ideal for calming a flushes complexion. There are plenty of different formulations on the market but a plastic spray bottle filled with cooled weak chamomile tea is a cheap but effective option. Sprit liberally over your face to clean and hydrate skin on the move. Added bonus? This homemade spray is completely baby safe and excellent to use on sore bottoms or if you're a cloth wipe and nappy user.
If you're prone to a very red face (like me!) a soothing redness relief gel can be a godsend, especially if you need to pull yourself back together quickly. Simply pat over clean skin for instant relief
Dry shampoo is a busy mums best friend (even when you're not post workout). This nifty spray on hair cleanser soaks up the extra oil commonly found around the roots and/or front part of your head, leaving in looking clean and oil-free.
Just make sure you always concentrate the spray into the roots of your hair by lifting up sections or tipping your head forward and spraying liberally.
Get friendly with embellishments- a couple of cute headbands are a god-send for post workout or new mum hair. I live in the things during the week, especially when I'm run of my feet. Use dry shampoo to freshen up hair,  pull back in a loose bun and pop a headband on for instant, easy chic.
Top up your deodorant and/or scent. Even the best anti-perspirant can take a beating after exercise. A quick spritz of a neutral scented deodorant will keep you smelling sweet for the rest of the day. If you're a perfume wearer, hold off on the scent while your skin cools down and avoid spraying near your neck and face as the alcohol reacts with the sun. A couple of drops behind your ears is usually all you need for long lasting scent.
Keep it simple. Exercise gives you a fantastic natural glow so swiping on a little bit lipgloss and a coat of mascara will have you looking lovely, in 30 seconds flat!
If you are ready to lose weight then the Lose Baby Weight plans offer a healthy and safe exercise and diet routine.
And don't forget to check out our current promotions and discounts page to see what specials we have on this week on our Healthy Mummy product range