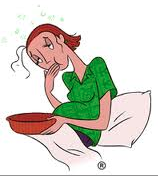 Getting pregnant for the very first time is such a happy time for many people. It's so exciting to be entering into this new phase in your life.
Pregnancy can also be very challenging as not everybody has a smooth run.
One of the first pregnancy symptoms is nausea. Some people battle through it unaware they can treat it naturally and without the need to be put onto prescription drugs, which may harm your baby.
Top tips to combat pregnancy nausea are:
– Water crackers, keep them in your bag at all times to prevent an empty stomach. Some people attribute nausea to feeling hungry so this can be an easy one to start with.
– eat protein rich foods every 2-3 hours such as hard cheeses, natural yoghurt, boiled egg/ or just the egg white if you can't stomach the yolk, raw almonds or walnuts – this will keep your blood sugar balanced and nausea away.
– lower iron supplements just for the first trimester, (as long as your not iron-deficiency anemic). If your on a multivitamin with a high iron content such as elevit, switch supplements temporarily.
– minimize sugar – as this will compound the problem. Stick to protein and complex carbs as much as possible.
– ginger is anti-inflammatory, drink fresh ginger tea by grating your own ginger root and adding boiling water. Make sure you put a lid or cover your tea so the active oils won't release into the air. Add a slice of lemon if your not keen on the flavour. You can see a great smoothie ginger recipe here and learn more about ginger
– take a Vitamin B6 supplement, on top of your multivitamin. Studies show that taking 25mg of Vitamin B6, 2-3 times daily with food can help lessen pregnancy nausea.
– get more sleep! It may be a no brainer, but research links lack of sleep to first trimester nausea. It's our bodies way of trying to slow us down and take care of ourselves. Try to go to bed a little earlier and get in at least 12 hours a night.
Good luck and I hope some of these tips may help the lose baby weight readers!
Written by Elisha Danine, Nutritionist.
And don't forget to check out our current promotions and discounts page to see what specials we have on this week on our Healthy Mummy product range