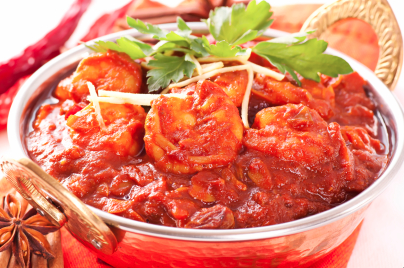 Who doesn't love a good curry – but when you are trying to lose weight or watch your health they can often be a no no.
But the GREAT news is that below with have a perfect low fat curry recipe that you can have if you are following a healthy eating or weight loss plan and is also super tasty!
So at only 400 cals per serve (the recipe serves 4) you can enjoy it guilt free.
Prawn and coconut curry
1 x tbsp of olive oil
4 cloves of garlic
1 red onion chopped up
1 large green chilli deseeded and chopped up
1 red capsicum
1 tbsp of tomato paste
1 bunch of brocolli
3 large tomatoes – diced
1/4 of a cup of mild curry paste
1 cup of vegetable stock – salt reduced
1 cup with carnation evaporated coconut flavored milk non fat – or use a different brand
350g of prawns
1 bunch finely chopped corriander
1 cup of basmati or wholegrain rice
Directions
Heat the oil in a pan and lightly cook the onion, garlic, capsicum, brocolli, tomatoes and chilli. Next add the curry paste and tomato paste.  Next add the stock and evaporated milk and simmer for 10 minutes. Then add in the prawns and corriander and cook for a further 10 minutes then tada serve with your rice!  The wholegrain rice is a better option as it is packed with fibre but the basmati rice is low GI so still a good option.
Calories per serve – 400
f you are ready to lose weight then the Lose Baby Weight plans offer a healthy and safe exercise and diet routine that are safe in breastfeeding and can help support your milk supply

And don't forget to check out our current promotions and discounts page to see what specials we have on this week on our Healthy Mummy product range