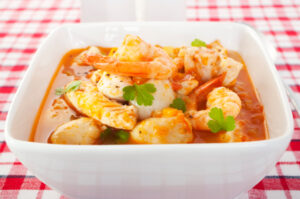 Overhauling your diet for weight loss or to promote a healthier lifestyle often means the introduction of a whole new range of meals. While you previously may have stuck to the same dishes, week in and week out, placing the focus on what you're putting in your mouth and how it is effecting your weight and body on the whole, means you'll often become a little bit more creative in the kitchen and perhaps try some dishes that you previously would have flipped right past.
Healthy, weight loss friendly food is anything but bland, largely due to the fresh, tasty ingredients used. Pre-packaged or partially prepared foods, many of which are extremely high in things like salt and sugar, are generally sealed in some way or frozen, meaning that the ingredients are kept safe and edible, but aren't exactly fresh. When you start cooking more meals from scratch and including a range of lean meats and seafood, other forms of protein, veggies, herbs and spices, you'll often find that you notice the delicious flavour combinations of the food.
Summer is a great time to add different forms of seafood to your diet as they lend themselves so well to the veggies and herbs that are in season. Prawns in particular are an especially delicious addition to your weight loss diet. Extremely high in protein and low in calories, they also contain a whole range of antioxidants and beneficial trace elements and minerals like selenium. Prawns are also high in Omega-3 and Omega-6 fatty acids which are an important part of a healthy diet, especially for pregnant and breastfeeding women.
Prawns can sometimes get a bit of a bad name when it comes to their consumption during pregnancy, due to the risk of things like food poisoning and listeria. Will cooked, cold prawns are best avoided, prawns that are served hot as part of a meal come with minimal risks.  
This Moroccan inspired tagine is packed full of protein while being low in calories and saturated fat. The spices add flavour and antioxidants, without upping the sodium content or increasing calories, while ingredients like tomatoes are full of beneficial fibre.
Enjoy!
Ingredients
1kg peeled, uncooked king prawns with tails in tact
1 brown onion, chopped
2 cloves garlic, crushed
1 tsp ground ginger
1 tsp ground cumin
1 tsp ground coriander
1/4 tsp chilli powder
1/4 tsp dried saffron
800g ripe tomatoes, coarsely chopped
1/4 cup water
2 tbsp flat leaf parsley, chopped
1 tbsp lemon rind
1 tbsp lemon juice
1 tbs olive oil
Directions
Heat olive oil in a large saucepan over medium/high heat.
Add garlic and onion to the pan and cook till onion turns transparent.
Add the spices and stir well, cooking till they become fragrant.
Add the tomato and cook, stirring continuously until tomato softens.
Pour in the water and increase the heat to bring mixture to the boil.
Reduce heat to medium and allow mixture to simmer until sauce thickens.
Add prawns to the pan and simmer for approx. 5 minutes or until prawns

are cooked through and turn white.

Sprinkle parsley, lemon rind and squeeze lemon juice over mix and serve.
Makes 4 serves – Cal per serve – 265
If you are ready to lose weight then the Lose Baby Weight plans offer a healthy and safe exercise and diet routine.
And don't forget to check out our current promotions and discounts page to see what specials we have on this week on our Healthy Mummy product range