Mandy Dos Santos, our Healthy Mummy 28 Day Challenge Nutritionist, shares some research on the much talked about Post-Partum Thyroiditis.
Pregnancy and giving birth to a beautiful bundle of joy is one of the most amazing experiences in our lives. We know and see our bodies go through immense change from the time of conception, to having the baby and even the resulting years post birth.
Not only do our bodies change but our lifestyles change. We are awake night after night, feeding every hour, not eating properly, fatigued and generally feeling exhausted and sometimes anxious. Sometimes this is just normal newborn life and sometimes, this overarching exhaustion could be linked to the functioning of your thyroid.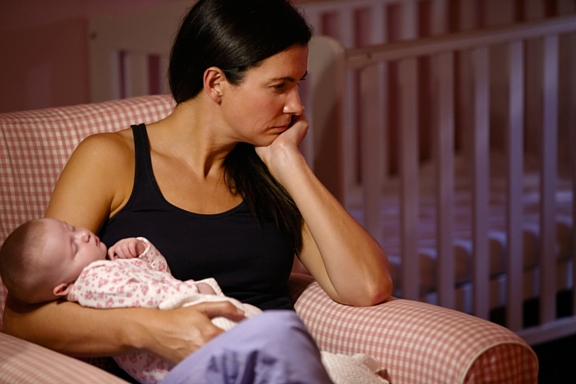 Post-partum thyroiditis is an autoimmune disease which can occur during the first year after a woman has given birth, often around the 6 week to 4-month mark. It affects around 5-10% of women post pregnancy. Although often the symptoms can be missed completely as they are vague and similar to general mum life.
There are two general types of postpartum thyroiditis, hyperthyroidism and hypothyroidism. Post-partum thyroiditis may present as hypothyroidism alone, hyperthyroidism alone, or hyperthyroidism followed by hypothyroidism.
Hypothyroidism
Symptoms of hypothyroidism (under active thyroid) include:
fatigue
weight gain
intolerance to cold
low mood
heavy and prolonged menstrual flow
absence of a menstrual period in a woman of reproductive age
constipation
dry scaly skin
hair loss.
Hyperthryoidism
Symptoms of hyperthyroidism (over-active thyroid) include:
fatigue
tremors
anxiety
palpitations
intolerance of heat
sweating
weight loss
increased pulse rate
diarrhoea
light or no menstrual flow.

The thyroid has been known for a long time to be associated with the functioning of our metabolism and therefore one of the symptoms, amongst post-partum thyroiditis can be weight loss or weight gain.
With hypothyroidism a mother might experience weight gain, this is because the thyroid is under-performing, resulting in a lower basal metabolic rate. With hyperthyroidism a mother might experience weight loss, due to the opposite in hypothyroidism, in that the thyroid is over performing, resulting in a higher basal metabolic rate. Of course every person is different and even in hyperthyroidism, a woman might have an increased appetite which therefore does not lead to weight loss.
Postpartum thyroiditis is treatable and is important if you suspect you have it to see your GP so it can be managed effectively and with appropriate medication if required. Most women will recover completely from their condition but it is important to have it monitored and also discussed in subsequent pregnancies as the chance of you developing it again is greater.
Our Lose Baby Weight 28 day weight loss program is a safe and healthy way to lose weight after having a baby, however, if you are struggling to lose weight and think that it may be linked to a thyroid problem, then please make sure you consult your GP.
Research: *Speller E, Brodribb W 2012, Breastfeeding and Thyroid disease: A literature review, Breastfeeding Review 20(2):41-47.Thyroid. 2011;21(10):1081-1125. doi:10.1089/thy.2011.0087.*