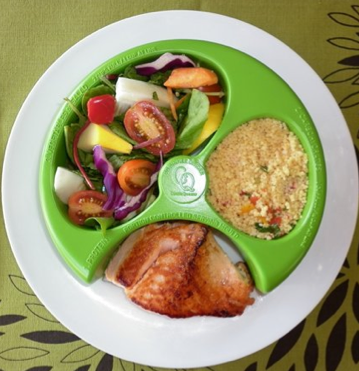 Portion control is a hugely important factor with regards to your body weight and when you are trying to lose weight.
Eat too much, and your weight will go up. Eat just the right amount, and your weight will go down. Eat too little, and you run the risk of stunting your weight loss completely and causing your body to become malnourished. So how exactly do you get the balance right?
Portion control means nothing if you frequently succumb to temptation or if you're not snack savvy – so here are some portion control guidelines and tips for sticking to them.
Tips for portion control
Generally, to keep your body healthy and functioning at its optimum level, you need to have a number of portions of foods from different food groups every day. This helps to make sure that you're getting your entire daily recommended intake of vitamins and nutrients.
Guidelines are: at least 5 or more fruit & vegetable portions per day. Ideally you should try to eat at least 3 pieces of fruit and 4 vegetables, 4 wholegrain carbohydrate portions per day, 3 protein/dairy portions per day, and 3 fat portions per day.
A portion of fruit & vegetables is usually counted as a large handful. A portion of potato (225g) should be the size of a computer mouse, a portion of spaghetti should be about 1.5cm or less in diameter, a small portion of shaped pasta should be a small, heaped handful, around 40g, and a portion of cooked rice (150g) should be roughly the size of a small tuna tin.
Portions of protein, such as chicken, beef, pork etc should be trimmed of all fat and should be around the size of the palm of your hand. Portions of dairy should be kept small, to a 250ml glass if you're drinking milk and in 50-100g pots if eating yoghurt.
Portions of cheese, however, shouldn't be any bigger than the size of a matchbox (28g). Fat portions, such as oil, should usually not exceed more than 1 tbsp of heart healthy fat at a time.
Although that sounds like a lot of portion sizes to remember, there are some ways to make things easier for yourself. For example, some people serve their food on smaller plates to the rest of their family, so they won't be tempted to fill the plate up with food, whilst others keep portion servers to hand, such as a clean, washed tuna tin to pack rice into or a spaghetti measurer in the cupboard to work out exactly how much spaghetti to cook.
You may prefer just to weigh your food, then once you've done it a few times, you'll know your portion sizes off by heart. It's all about finding a method that works for you – and once you've found that method, stick with it.
Tips to stick to portion controls
You should also always put temptation out of the way. If your children have left some of their dinner, go and put it into a container ready for them to eat the next day, rather than nibble at it. If you've made a big pot of food, don't bring it to the table – put out your own portion, then if there is any left over, refrigerate or freeze in portions ready for you to eat later on in the week.
Equally, if there are some foods that you know are your triggers, such as chocolate, and you feel like if you start eating it you won't stop – don't buy them! Instead, only buy portion-controlled versions of these foods. For example, you can get bite-size chocolate bars which will give you a little taste of chocolate but without all the calories, mini pots of yoghurts and cream cheese, individual packs of biscuits and crisps, ready-sliced bread, etc.
These sorts of products are life-savers when it comes to keeping your portions in check, especially if you know that your self-control isn't quite what it should be.
Remember, you can always pad meals out with veggies to stop your portion from looking too small – things like bolognese, chilli and stew are just as good when cooked with less meat and more veggies and they are just as filling.
Once you've learned portion control, it can really pave the way to a newer, slimmer you. Whilst your portions may seem quite small to begin with, when you do begin taking control of your portions, you'll quickly become accustomed to how much you're eating. And if you need help on what to eat and how much then see our 28 Day Weight Loss Challenge which has a daily customiseable food plan to follow.
And don't forget to check what your BMR is to work out how many calories you need a day and remember to add an extra 300-500 calories a day if you are breastfeeding.
The 28 Day Challenges will provide you with the skills to make the right decisions when it comes to food choices plus support and tips to make food prep, fitting in exercise, staying motivated and reaching your goals really easy.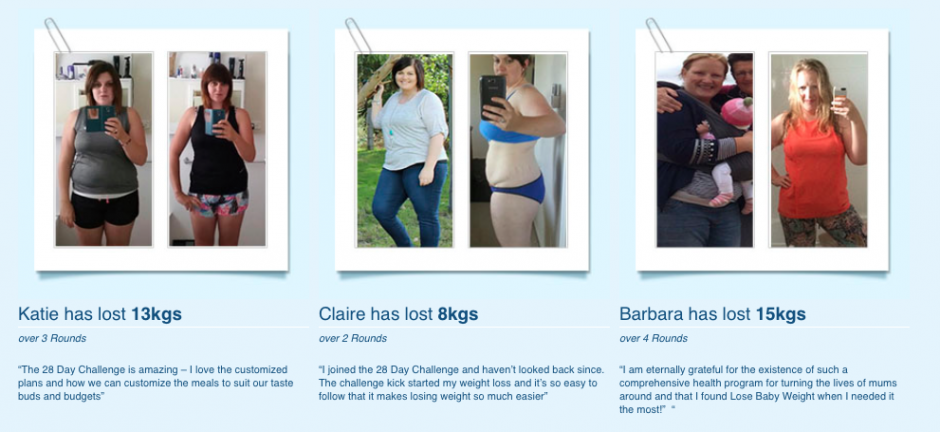 Here are some of the other key benefits from joining the 28 Day Weight Loss Challenge:
Food & Nutrition
You will receive 28 Days of easy to make recipes (breakfast, lunch, dinner, snacks and even dessert)
All recipes are made in under 20 minutes
Each week comes with personalised weekly shopping list – either in PDF form or mobile version
Meal plans are fully customisable
Subscribers will have access to the exclusive challenge 800+ recipe hub
Exercise
You will receive 28 days of effective interval training and pilates exercise plans – all done at home
Use the online timer to perform all your interval training
Record your stats in your personal daily tracking exercise board
All exercises with videos
Motivation
Do the Challenge with 1,000's of other mums
Join the private support group with over 15,000 other mums
Daily support emails
Private tracking tools and dashboard
Contact the team any day for additional help
So get to it and join 1000's of other mums who want to feel healthier and happier and sign up for the 28 Day Weight Loss Challenge now.



Need to stock up on Healthy Mummy Smoothies? Then see our shop here
And join our 28 Day Weight Loss Challenges here