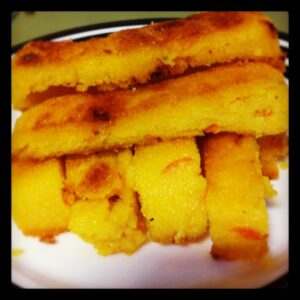 Searching for a healthy alternative to rice or pasta? Look no further than polenta. This clever little grain, a diet staple of 16th century Italy, is popping up all over the place, and with good reason.
Packed full of complex carbohydrates, fibre and nutrients like zinc and iron, it's a fabulous inclusion to any healthy eating or weight loss plan.
Simply put, polenta is made from ground maize (sometimes referred to as cornmeal). As this fine yellow or white powder is free from wheat and other additives, it makes a great option for those following both a low fat foods or gluten free diet. Lumpy in texture, polenta resembles a cross between mashed potato and mushed up pasta (but tastes for more delicious than it looks).

Though the composition of polenta is very different to the aforementioned pasta and potato, it shares one common trait with these regular menu additions; versatility. Polenta is usually purchased in it's basic, raw form, and can be used as the base for a whole range of healthy, family friendly meals.
Polenta porridge is a great alternative to traditional oats, while today's recipe, polenta fingers, make a great morning or afternoon snack for the whole family.
The area where polenta triumphs over other, white carbs? Its high level of resistant starch. Resistant starch packs a weight loss punch as it does not get absorbed into the bloodstream or broken down into glucose. This means that our blood sugar remains stable and doesn't spike up and down erratically, extremely important for the healthy, gradual loss of things like belly fat or pregnancy weight.
I originally whipped up a batch of these polenta fingers as a snack for my son, but after trying one during cooking, decided that they'd be featuring on the adult menu for the day as well! The complex carbs, protein and fibre found in the polenta make these a great, slow release source of energy, while the 'hidden' veggies and grated cheese add extra nutrients and calcium.
Enjoy!
Ingredients
1/2 cup of polenta (you can usually find it in the health food aisle of your supermarket)
1.5 cups of salt reduced vegetable or chicken stock
1/4 cup of low fat grated cheese (I like mozzarella or cheddar)
1/4 cup of finely grated vegetables of your choice (I usually use carrot or pumpkin but zucchini and spinach would also work well)
1 tbsp. olive oil
Directions
Pour stock into a medium sized saucepan and heat on high heat till it begins to boil.
Reduce heat to medium and gradually add the polenta to the saucepan, bit by bit, stirring constantly.
Continue to stir the mixture until it begins to thicken to the consistency of mashed potato.
Add the cheese and veggies to the saucepan and mix well.
Pour mixture into a baking paper lined tin or baking tray. Smooth over the surface with a wooden spoon to remove any bubbles or lumps.
Place the tray in the fridge and leave till mixture hardens (usually an hour).
Remove tray from the fridge and turn out the block of polenta onto a chopping board.
Cut block into quarters and then slice each quarter into fingers
Heat olive oil in a fry-pan over medium heat and add fingers, cooking till golden.
Remove fingers from fry-pan and place on absorbent paper to drain.
Serve on their own or with a side salad.
Makes approx 8-10 fingers Calories per finger – 45
If you are ready to lose weight then the Lose Baby Weight plans offer a healthy and safe exercise and diet routine that are safe in breastfeeding and can help support your milk supply
GET YOUR 10% DISCOUNT
If you are ready to lose weight then the Lose Baby Weight plans offer a healthy and safe exercise and diet routine and you can get a 10% discount by using code LOYALTY at the checkout.
Click HERE to see our shop