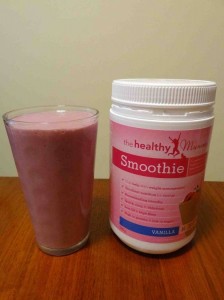 Thanks Emma Jakku for sending in this tasty recipe.
Emma says 'I'm loving your Healthy Mummy smoothies and 28 day diet and exercise plan.
I've lost 4.4kg already, in just under three weeks, so I'm pretty happy with that.
I just thought I'd share this smoothie recipe that I came up with, based on one of my favourite winter desserts.  I hope you like it as much as I do.'
For those of you that may not have heard of Pandowdy, it is an old fashioned dessert, similar to a spiced fruit pie. Yum!
Ingredients
250 ml milk (e.g. skim, soy, oat etc)
1/2 ripe pear, cored and chopped
1/4 cup raspberries
1 tbsp oats
1 tsp honey
Sprinkling of cinnamon
2-3 pieces of glace ginger (or substitute with equivalent amount of fresh or ground ginger)
2 Tbsp of Healthy Mummy Vanilla smoothie mix
Method
Blend together until smooth and enjoy
Notes  
This smoothie is delicious either cold as is or heated up in the microwave for a warm treat.
It is also yummy with some extra cinnamon sprinkled on top.
Have you been inspired to make up your own smoothie recipe? If you send in your recipe and a picture to [email protected] you go into the draw to win our Smoothie of the Week prize – a $100 Myer voucher!
GET YOUR 10% DISCOUNT
If you are ready to lose weight then the Lose Baby Weight plans offer a healthy and safe exercise and diet routine and you can get a 10% discount by using code LOYALTY at the checkout
PLUS our BEST SELLING 28 Day Diet & Exercise Plan has now launched as an 84pg Printed Book and you can get your copy here 
Click HERE to see our shop