It's important to include family friendly, budget meals into your healthy eating plan as often as possible, as cooking for a family on a limited budget or time can be difficult, often leading to poor dietary choices like calorie laden takeaways.
Having a range of easy-to-make, low calorie, high nutrition recipes to prepare on short notice is a good way to ensure that you continue to lose pregnancy weight while cooking for the whole family.
This super easy recipe for tasty Pea, Cheese and Lemon Fritters is a good budget-friendly meal option that will suit families with toddlers and fussy eaters.
And don't forget – if you are too busy to cook or prepare a lunch our Healthy Mummy Smoothies make a tasty, healthy, fast and convenient alternative – and you can click here to see why our smoothies are so different to others on the market.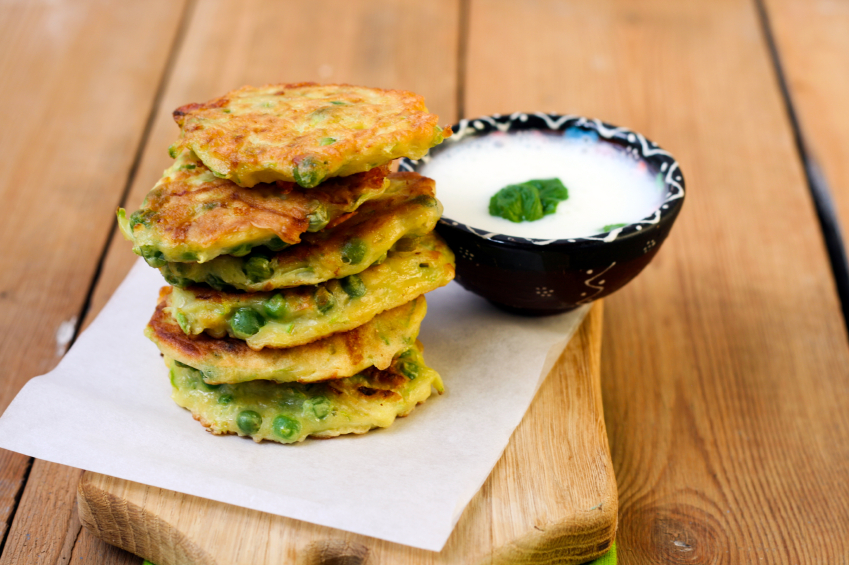 Ingredients: 
225 grams cooked frozen peas, drained
120 grams reduced-fat cheddar cheese, grated
1 large egg, beaten
4 tbsp plain wholemeal flour
Juice and zest from 1 lemon
2 tablespoons fresh mint, chopped
2 tbsp olive oil
250 grams reduced fat Greek yoghurt
Method: 
Place the peas in a large bowl and add the flour, lemon zest, cheese, egg, and mint.
Use your hands to combine well and form into small, flat fritters.
Heat a large fry pan over medium heat and add the 1 tbsp of the olive oil.
Cook half the fritters, turning after a couple of minutes.
Once the fritters are crispy and golden brown remove from heat and set aide on paper towels to absorb excess oil.
Add second tbsp of oil to the pan and cook remaining fritters.
Meanwhile, mix the lemon juice into the yoghurt.
Serve the fritters with the lemony yoghurt as a dipping sauce.
Serves: 4 (3 fritters each). Calories per serve: 215