For a super simple healthy eating dinner, you simply can't go past a frittata.
All you need are some eggs, cheese and a selection of vegetables (anything goes) and you've got yourself a quick and easy dinner that you can serve with a simple salad on the side.
They also taste great cold so are a terrific picnic option, or something to take to school or work for lunch.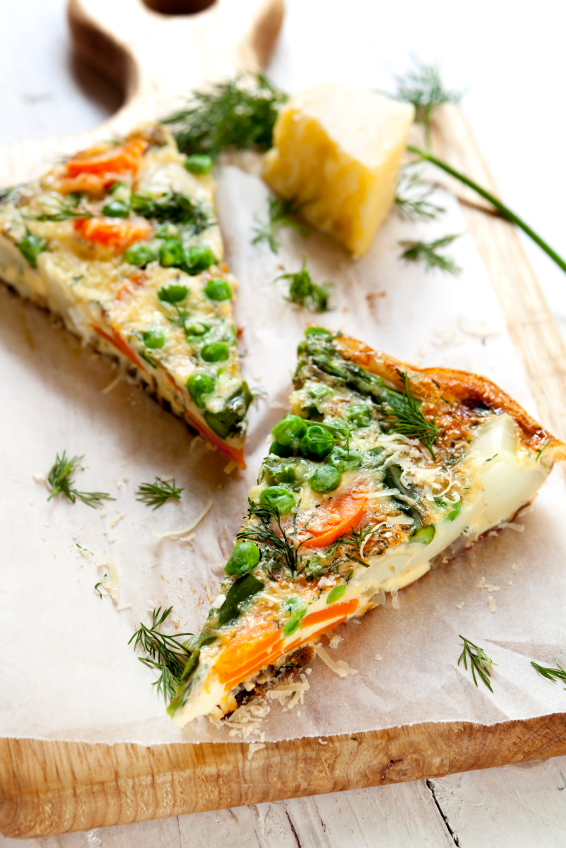 At just 200 calories per portion, this is a meal that you can enjoy while you are losing pregnancy weight.
Ingredients:
1 bunch of asparagus, ends trimmed, chopped into 2cm pieces
3 tbsp water
1 small carrot, very thinly sliced
1 cup cooked peas (frozen ones work well)
7 eggs, whisked lightly
4 tbsp grated Parmesan
Salt and pepper to taste
Olive oil spray
2 tbsp fresh dill, to serve (or use parsley)
Method:
Preheat your oven to 200C.
Spray a round cake pan with olive oil and set aside.
Heat a frying pan over med/high heat and spray with olive oil.
Cook the carrot and asparagus in the pan for one minute, stirring regularly, before adding around 3 tbsp water to help steam them.
After a minute or two, test the asparagus and carrot to check that they are tender. Turn off the heat.
Place asparagus and carrot into the prepared pan.
In the still-warm frying pan, place the peas, eggs, Parmesan, salt and pepper and warm through.
Pour the egg mixture into the pan and bake for 10-12 minutes, or until golden brown on top.
Sprinkle with the dill before serving.
Serves: 4. Calories per serve: 200.

GET YOUR 10% DISCOUNT
If you are ready to lose weight then the Lose Baby Weight plans offer a healthy and safe exercise and diet routine and you can get a 10% discount by using code LOYALTY at the checkout
PLUS our BEST SELLING 28 Day Diet & Exercise Plan is available as a 200pg Printed Book and you can get your copy here 
Plus our NEW CALORIE BIBLE is now available – get your copy today! Only $19.95 and a must have in your handbag!
Click HERE to see our shop