If there's one thing Aussie pubs know how to do well, it's a chicken schnitzel. Usually found topped with cheese and a tomato based sauce, the humble schnitzel is not what you'd usually call weight loss friendly food.
All that crumbing and less than lean cuts of chicken (not to mention the gooey cheese and salty sauce), can pack a huge calorie punch, throwing your entire count for the day out. And that's not even mentioning the sides (and drinks) that will usually be consumed along with a plate of schnitzel.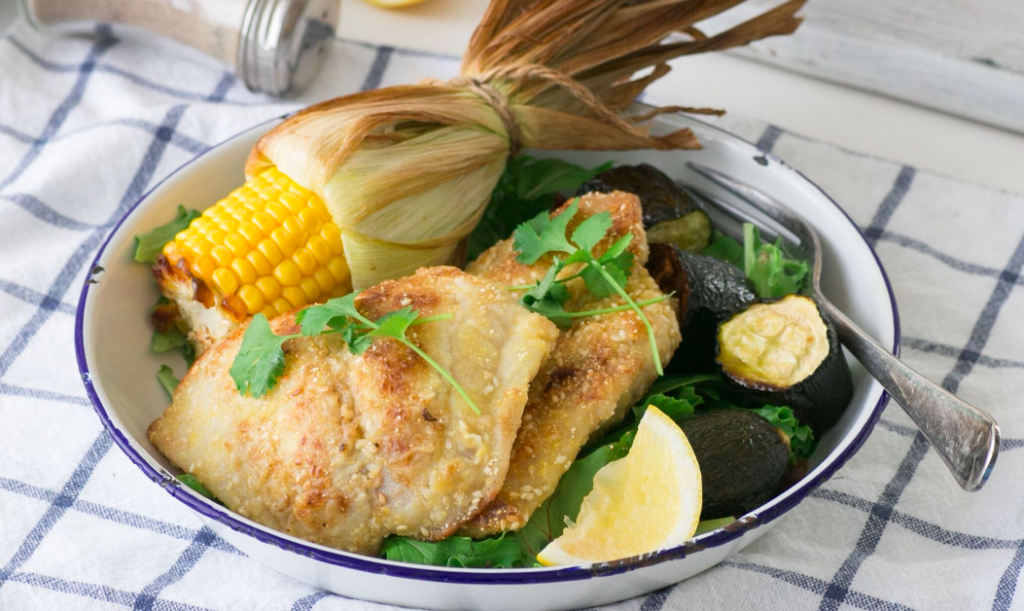 The good news? Foods like chicken schnitzel don't have to be off the menu. One of the best things about a diet overhaul is learning how to prepare previously calorie rich food in a healthy, weight loss friendly way, without losing out on any of the taste.
Indeed, the majority of people often find that they prefer the leaner, most flavoursome taste of the new version of their old favourites, due to the fresher ingredients and lack of oil/excess fat.
When it comes to eating healthily and cutting calories. Choosing the right cut of meat can make a massive difference. An average cup of diced, cooked chicken breast , contains around 5g of fat, where as a cup of diced thigh contains triple that, with approximately 15g of fat. Chicken breast is a fantastic source of lean protein, iron and zinc, essential for a healthy body and brain.
This recipe replaces  fatty cuts of chicken with lean, skinless chicken breasts and high GI white breadcrumbs with parmesan and dried parsley. Grilling instead of frying also cuts down on the calories per serve. Served with a green salad of baby spinach and rocket leaves with an olive oil and white wine vinegar dressing, this meal comes in well under 350 calories which makes it tasty, family friendly and great for the waistline.
Enjoy!
Ingredients
1 egg, lightly beaten

5 tbsp parmesan, finely grated

2 tbsp dried parsley

4 chicken breast fillets, skin removed

1 lemon cut into four wedges

2 cups steamed broccoli
Directions
Preheat grill to medium hot.

Combine parmesan and parsley on one plate and pour beaten egg onto another.

Dip the chicken first in the egg then into the parmesan mixture.

Make sure each fillet is well covered with mixture before placing on a clean plate.

Grill the chicken for 10 – 15 minutes or until golden brown and cooked through.

Serve chicken with steamed broccoli and squeeze lemon juice over the plate.
Makes 4 servings – 339 calories