Quick and easy. That's what we love here at Lose Baby Weight. And it doesn't get much quicker or easier than this family favourite.
And when you've mastered this version, you can create your own using different vegetables or meat to suit your own tastes. This recipe serves 2 people, but you can easily increase the ingredient quantities to serve everyone.
Our June 28 day weight loss challenge is all about Slow Cooking and One Pot Recipes.  If you loved this sneak peek from next month's challenge you can sign up HERE.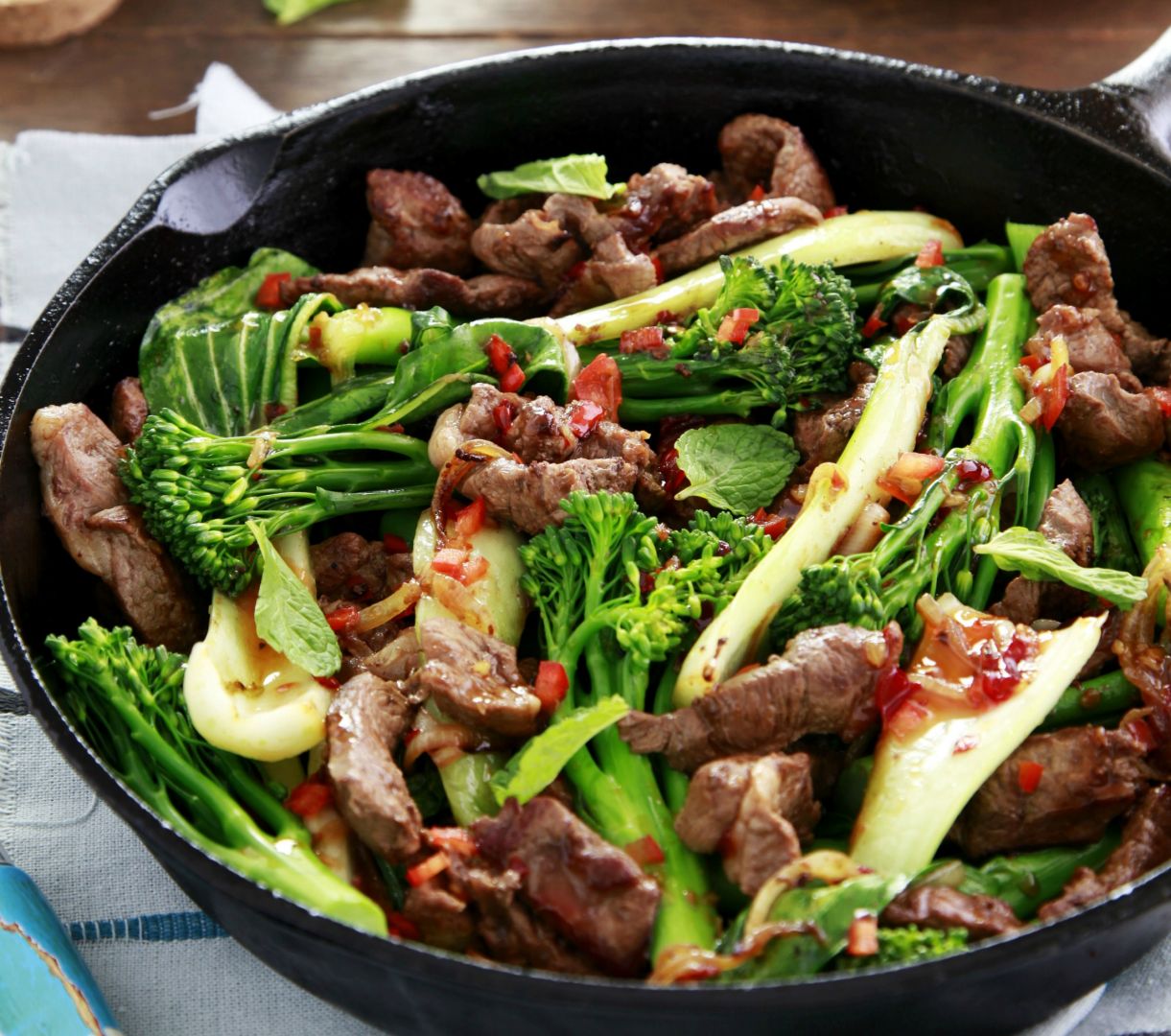 Ingredients:
1 small, brown onion (approx 60g)
1 red chilli (approx 45g)
200g bok choy
1 head broccolini (approx 30g)
cooking oil spray
400g lamb, rump, lean
10mls sesame oil
1 garlic clove, crushed
40g teriyaki marinade sauce
30mls sweet chilli sauce
Method:
Thickly slice the onion, thinly slice the chilli and coarsely chop the bok choy and broccolini.
Heat a non-stick wok or fry pan to high and lightly spray with cooking oil spray.
Slice the lamb into thin strips and stir-fry until cooked to preference and remove from wok; cover to keep warm
Heat the sesame oil in the wok; stir fry the garlic, onion and chilli until fragrant.
Add the teriyaki and sweet chilli sauces and bring to the boil; add the vegetables and stir-fry until just tender.
Return the lamb to the wok and heat through; transfer to serving plates.
Optional
Serve with any of the below to increase calorie content
100g of cooked brown rice - 170 calories
100g of basmati rice - 107 calories
100g of cooked soba noodles - 145 calories
100g cooked quinoa  - 128 calories
100g of cooked pasta - 140 calories
Serves 2 and only 379 calories per serve.
Love the Healthy Mummy team xxx
Every month on the 28 Day Weight Loss Challenge, we run a BRAND NEW 28 Day Menu with a different theme so you NEVER get bored!
Next month's theme is the SLOW COOKING and ONE POT MEALS! – Perfect for the chilly winter weather and still just as healthy. If you are curious about the 28 Day Challenge recipes then we have a 28 Day Challenge recipe pack for you to try HERE.