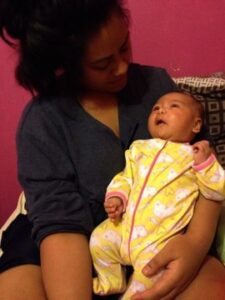 By Patricia Usoalii
When my daughter was born I was over the moon about her. I couldn't wait to breastfeed her and feel that special connection with my baby. But nobody told me that breastfeeding wasn't easy.
Even though my breasts hurt when she was feeding off me I just dealt with the pain because I didn't want a starving baby.
On the third day after my daughter's birth I was able to go home from the hospital. It came to the point that I dreaded her feeding time because I was just too sore.
She was constantly crying and was always hungry. It was all so new to me since she was my first baby and I was scared that I was doing something wrong.
My mum had my younger sister a couple of months earlier and was also breastfeeding. I was informed that breast milk had more nutrients and was a better choice then formula so I was strictly against formula from the beginning.
On the third night back home the pain in both breasts became so unbearable that I couldn't feed my daughter any more. She was screaming, it was the middle of the night and no shops were open to buy formula.
That night, my mum took my daughter and fed her with her own breast milk. By then I was used to having my daughter sleeping near me, and so not to have her beside me was heartbreaking.
I remember crying, feeling like a bad mother because I couldn't feed my own daughter. I spent the night hugging my daughter's pillow and crying myself to sleep.
Whenever I saw my mum breastfeeding my daughter, I would enter the nearest room, lock the door and cry. I just hated it but I also couldn't bear to see my baby cry from hunger.
I became quite depressed. I began to feel like that I wasn't her true mother and felt very helpless. I realise now that I also became very clingy to my boyfriend – I hated it when he left to go to work because I felt more alone.
I spoke to the midwife that was visiting me at the time and filled her in with what was happening. Talking helped and knowing that I wasn't alone helped tremendously.
I also had cracked nipples from my daughter pulling and tugging on them, so she gave me a small tube of Lansinoh HPA Lanolin to apply and it helped so much. Instantly I saw my nipples healing slowly.
Once again I tried again to breastfeed my daughter under the midwife's supervision. It turns out my daughter wasn't latching on properly so she gave me a small booklet on breastfeeding. I read that booklet from front to back. The midwife suggested that I give my breasts a short break and to manually breast pump.
The next day my mum fed my daughter and every 3-4 hours I would manually pump each breast for 15 minutes. Each time I began to produce more milk, which I was ecstatic about, because I thought I couldn't produce milk.
By the third day I felt I was ready to breast feed my daughter again. I tried different breastfeeding positions until I found one that was comfortable for the both of us. I also decided to give formula a try so that I can top her up and ensure she is full.
It was the hardest two months of my life but I refused to give up, because I am her mother and she is my daughter! I now breastfeed my daughter without needing my mum's help and she's now a happy, healthy and chubby five month old baby.

GET YOUR 10% DISCOUNT
If you are ready to lose weight then the Lose Baby Weight plans offer a healthy and safe exercise and diet routine and you can get a 10% discount by using code LOYALTY at the checkout.